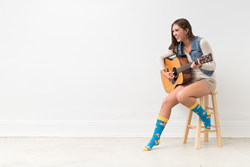 Getting socks has never been so convenient.
Los Angeles, CA (PRWEB) November 11, 2016
Socks and I is proud to announce the official launch of socksandi.com. They are thrilled to provide a service to expand your sock drawer. Their inventory is filled with a range of distinct, yet fashionable socks. Everything from over the knee socks for women to charismatic socks for men.
Founded in 2016, Socks and I was inspired by the founder's mission to have a continuous supply of striking socks without having to go to the store and buy them. After testing several options, the team at Socks and I have reached the summit of the picture-perfect "Subscription Socks Box" to be conveniently delivered to your home.
Based out of Los Angeles, CA, Socks and I utilizes integrated web-based software technology to provide fast shipping and low prices for their consumers. Socks and I co-owner and founder, Darrell Tabar states, "Our integration provides us a one stop shop to manage and communicate to our customers effectively. Our goal is to get our customers their boxes as fast as possible, so they can enjoy their socks now." Socks and I seems to be delivering on their word as they are adding new subscribers every day.
On top of marketing efforts, the company is committed to drive campaigns that will benefit those less fortunate. One example includes their November Toys for Tots promotion. Every new subscriber received in the month of November will translate to one unwrapped toy to Toys for Tots. In addition, Socks and I has vowed to match all donations. More campaigns appear to be on the horizon, so stay tuned!
Socks and I's mission is to deliver amazing monthly packages with customer service that exceeds expectations. Their subscription sock model has spread organically with their marketing efforts. They look forward to have Socks and I on your feet in the near future!
Visit https://www.socksandi.com for more information.