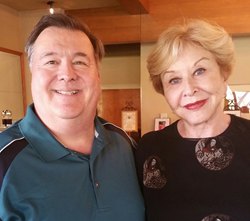 Totem Pole Playhouse 2017 Season includes the stage version of a Best Picture Academy Award-winning movie, two Tony Award-winning musicals, and a celebration of America's most beloved composer.
(PRWEB) November 30, 2016
Franklin County Visitors Bureau recommends the 67th summer season of Totem Pole Playhouse, Pennsylvania's premiere summer theatre, located in Caledonia State Park.
Opening the season is the Pulitzer Prize-winning stage play which went on to win nine Academy Awards including the Oscar for Best Picture, "Driving Miss Daisy." The play delicately depicts racial tensions, the passage of time, and the experience of aging. Four-time Emmy Award-winning actress Michael Learned, best known for her role as 'Olivia (Ma) Walton' on the classic television series "The Waltons," will star as elderly Jewish matron Daisy Werthan. Lance E. Nichols, who starred for four seasons in the critically-acclaimed HBO series, "Treme," will play opposite Ms. Learned, portraying Hoke Coleburn, her chauffer. Sponsored by F&M Trust, the performance runs May 26 through June 11.
Winner of five Tony Awards, including Best Book and Best Original Score, the new musical "The Drowsy Chaperone" will be the second show of Totem Pole Playhouse's 2017 season. The large cast musical is a loving send-up of the Jazz Age featuring one show-stopping song and dance number after another. Sponsored in part by Walker, Connor & Spang, LLC, the musical runs June 16 through July 2.
"I Love a Piano," a celebration of the music of Irving Berlin, will be the third show of Totem Pole's season. The musical follows the journey of a piano as it moves in and out of American lives from the turn of the century to the present. Along the way, the story comes to vibrant life with over sixty of Irving Berlin's most beloved songs, including classics such as "Blue Skies," "There's No Business Like Show Business," "Puttin' on The Ritz," "Cheek to Cheek," "Always," "How Deep is the Ocean," "Anything You Can Do," "God Bless America," and of course, "I Love a Piano." The show runs July 7 through July 23,
"Million Dollar Quartet" is the fourth show of the season and features an incredible score of rock'n'roll, gospel, R&B and country hits, performed live onstage. Showcased hit songs include "Blue Suede Shoes," "Fever," "Walk the Line," "Sixteen Tons," "Who Do You Love?," "Great Balls of Fire," "Folsom Prison Blues," "Whole Lotta Shakin' Goin On," and "Hound Dog." Due to the large number of group sales, the production has already been extended an additional week. This unforgettable show, sponsored in part by Edward Jones, will be on stage July 28-August 20.
Totem Pole Playhouse will present a special "one week only" bonus show, "Love Letters," starring Meredith Baxter and Michael Gross the TV parents from hit 1980s television series "Family Ties." A Pulitzer Prize finalist, "Love Letters" centers around more than 50 years of letters. The show will be presented for eight performances from August 22 through August 27.
Tickets are available by contacting (717) 352-2164 or visiting http://www.totetmpoleplayhouse.org.
The Franklin County Visitors Bureau invites all to explore Franklin County PA and enjoy the history, arts, recreation, natural beauty, fresh foods and warm hospitality of communities like Chambersburg, Greencastle, Mercersburg, Shippensburg, and Waynesboro. Franklin County PA is located just north of the Mason Dixon Line and an easy drive to Washington DC, Philadelphia, and Pittsburgh. Discover more….plan your visit at ExploreFranklinCountyPA.com , by contacting 866.646.8060 or 717.552.2977.