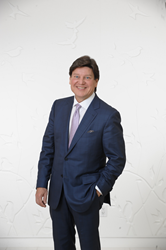 Houston, TX (PRWEB) November 09, 2016
Vitenas Cosmetic Surgery founder, Paul Vitenas, MD, FACS, is excited to announce the release of Juvederm's newest dermal filler, Volbella. This unique filler will temporarily restore lip volume while creating exceptional results that last up to a year.
Made by aesthetic giant, Allergan, Juvederm Volbella was approved by the Food and Drug Administration (FDA) in June 2016. Using Juvederm's proprietary Vycross technology, their latest injectable is made from naturally occurring Hyaluronic Acid (HA). Unlike traditional fillers, Volbella's low concentration of HA ensures the injectable will not cause the swelling seen with traditional fillers.
Volbella was specifically created to improve the shape and contour of the lips by pulling in added moisture. The injectable can also effectively soften the appearance of fine lip lines, restore lip borders, and emphasize the Cupid's Bow along the top lip. The noninvasive treatment can also improve age-related volume loss in the cheeks or perioral rhytids.
Vycross technology is what gives Volbella its smooth gel formula, making it an easy, safe injectable for restoring age-related volume loss. Bill Meury, Chief Commercial Officer at Allergan, explains, "The FDA approval of JUVÉDERM VOLBELLA® demonstrates Allergan's commitment to developing advanced products and technologies that allow healthcare providers to better address evolving patient needs." He goes on to say, "This approval brings to market a product unlike anything that is currently available in the United States."
The subtle results from a Juvederm Volbella session can be seen immediately. Volbella's unmatched technologies utilize a wide range of molecular weights, ensuring a longer duration of results. Results from Volbella will last for up to a year before a maintenance treatment is necessary.
At Vitenas Cosmetic Surgery, Dr. Vitenas specializes in restorative procedures for the face and body. The addition of Juvederm Volbella offers a new avenue for restoring a youthful appearance. Dr. Vitenas expands, "Understanding facial aging is very important in being able to understand how facial rejuvenation should take place." He continues, "If we think about our faces and their component parts, what we have to begin with is the foundation." Volbella can restore volume to the tissues of the lips and cheeks, providing the necessary structural shape to the features.
Dr. Vitenas is a board certified plastic surgeon and alumnus of Tulane University School of Medicine. He completed his Craniofacial and Cosmetic Surgery Fellowship at the prestigious Hospital Necker and Clinic Belvedere in Paris, as well as an Orthognathic Surgery Fellowship at the Louisiana State Medical Center. Dr. Vitenas has been in private practice in the Houston area for almost 30 years.
For additional information on Juvederm Volbella, contact Vitenas Cosmetic Surgery at 281.484.0088. Consultations with Dr. Paul Vitenas are complimentary and can be held in-person, or online for those traveling from outside of the area. Located at 4208 Richmond Avenue, Vitenas Cosmetic Surgery is easily reached from anywhere in the Houston area.