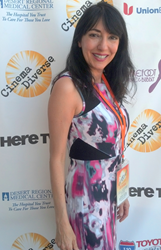 It is a freeing experience to create characters based on my hard-working friends like the actors who have inspired me to write this screenplay.
Hollywood, California (PRWEB) November 11, 2016
CSUN Psychology Professor and Filmmaker Dr. Luciana Lagana's feature screenplay TWISTED ACT has been acknowledged at several film festivals. It is a bittersweet story inspired by true events in Los Angeles, especially the adventures of the writer's female friends who are actors.
Dr. Luciana is excited to be garnering recognition for this screenplay. It has won Best Script by both Online Audience and Festival Jury at Los Angeles CineFest, Best Comedy/Dramedy Feature script at Hollywood Boulevard Film Festival, and Gold Award for Best Feature script at the International Independent Film Awards. TWISTED ACT is also an Official Selection at Sherman Oaks Film Festival and Hollywood Screenplay Contest. Additionally, it received the Honorable Mention Award in the script competition of Women's Independent Film Festival.
(From the website of Women's Independent Film Festival): Our mission is to celebrate and give voice to the many diverse and unique perspectives offered by women in cinema from every part of the world. We seek to offer a platform in Los Angeles for the many diverse perspectives of women within the world of independent film. Women's Independent Film Festival awards and screens the best independent films made by women filmmakers from around the world. In order to qualify for entry, a woman must fill AT LEAST ONE of the following key positions on the film: Director, Producer, Writer, Lead female Protagonist, Editor, or Cinematographer. We hope to give voice to the many talented and underrepresented women creating great work in the independent film world.
The family-friendly script offers a combination of drama and comedy, touching upon topics such as the struggles of women working in the entertainment business who have a hard time making ends meet as actors in Hollywood. In its more hilarious moments, TWISTED ACT contains a funny yet complicated love story, and the comical reactions of a teen boy (who is bullied at school for being on the show) and his father to the embarrassment of having to play silly robots on TV.
The show is no longer running, but for many, it has become a cult show because of how good it makes people feel. It was initially intended to be a children's show; however, adults became mesmerized by its wit and energy. Some say it is a guilty pleasure of theirs to watch re-runs of the show featuring the protagonists' awkward lines and dances. In this film, the eccentric male star is a temperamental primadonna who was the only cast member to play a human role. Unlike the rest of the cast, he has managed to remain relevant in the entertainment business and tries to hide his insecurities at the expense of others. His manipulation of the careers of other actors is one of the reasons for the screenplay's title. The tough, martial arts-skilled woman in the script is still relatable - although antagonistic to the main character, an Italian has-been female actor who is the ex of the male lead and is ready to abandon love as well as the entertainment industry.
"Whenever I find a little time, I engage in creative writing that is not of a documentary nature and is not related to my film-based anti-bias experimental research. I still tend to cover serious topics such as women's struggles and bullying in my fictional projects such as TWISTED ACT and OLD RIVER ROAD (note: OLD RIVER ROAD is an award-winning dramatic screenplay that Dr. Luciana wrote a few years ago with her husband, Gregory Graham). It is a freeing experience to create characters based on my hard-working friends like the actors who have inspired me to write this screenplay", shared Dr. Luciana.
Written by Stefanie Friesen
Luciana Lagana is a caring clinical and experimental psychologist. She is also a professor of psychology, gerontology, women's health, and sexuality at CSUN, where she teaches classes and mentors many undergraduate and graduate students. Additionally, since 2002, she has been conducting government-funded research at CSUN on the physical, psychological, sexual, and social health of ethnically diverse, primarily low-income older women. Since 2006, she has also been pursuing her creative endeavors by studying acting, TV and radio hosting, screenwriting, directing, and producing in Los Angeles. She has over 50 IMDb credits for hosting and acting in many independent feature films, TV pilots, and web series, as well as several credits for her award-winning screenwriting, directing, and producing. She is the writer/lead actor/director/producer of the 2014 award-winning satirical web series INTIMATE TEMP AGENCY on helping young people with special needs find employment, which won Best Trailer at the 2015 Hollywood Reel Independent Film Festival, among other awards. Her 2014 DR. LUCIANA SHOW – AGING AND FALLING web series won numerous awards, including Best Educational Show at the 2015 WorldFest-Houston International Film Festival. Within the past two years, her TV pilot DR. LUCIANA ON AGING AND FALLING fared well on the film festival circuit; she also wrote, hosted, directed, and produced three award-winning social impact feature documentaries, UNDERSTANDING PAIN IN OLDER AGE, LGBT UNITED, and AGING AND FALLING.