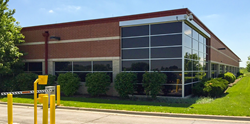 Adding a carrier like Cogent will add value to our customers' processes for a variety of IT solutions.
West Chicago, IL (PRWEB) November 10, 2016
Data center operator New Continuum Holdings Corporation ("New Continuum") is pleased to announce that global telecommunications provider Cogent Communications has extended its fiber-optic network into New Continuum's West Chicago data center enabling it to offer its full suite of connectivity services, including Dedicated Internet Access, IP Transit and Ethernet VPN services to New Continuum customers.
"Extending Cogent's fiber network into our West Chicago facility is critical to our development of an ecosystem. We have focused significant resources and energy toward building rich connectivity offerings in our facility," said Eli D. Scher, CEO of New Continuum. "Our customers' applications range from a variety of IT and managed services to cloud and content applications and disaster recovery. In almost every instance adding a carrier like Cogent will add value to their processes to be able leverage another powerful global network for a variety of IT solutions."
New Continuum's West Chicago data center is designed for high performance computing applications. The facility boasts true 2N power infrastructure, high density, adaptive cooling in a secure and scalable environment. With the addition of Cogent, New Continuum is able to offer unparalleled value to customers seeking to leverage its combined best in class data center and network infrastructure.
###
About New Continuum
New Continuum Data Centers ("New Continuum") is a multi-tenant data center operator in the western Chicago suburbs. New Continuum operates an 80,000 square foot, purpose-built, concurrently maintainable facility in West Chicago, IL, and offers highly flexible wholesale and retail colocation services to enterprises and small businesses. New Continuum's products range from basic colocation to private cages, private suites and secured data halls. Additionally, New Continuum offers unique connectivity and peering solutions through its partnership with United IX (http://www.unitedix.net). New Continuum's 2N power design can accommodate some of the highest density cabinet footprints, and with its efficient technologies and robust cooling infrastructure it can deliver leading edge PUEs. To learn more, please visit http://www.newcontinuum.net, or call 877-432-2656.