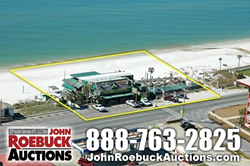 (PRWEB) November 10, 2016
John Roebuck Auctions announces the auction of Toucan's Tiki Bar Restaurant, LLC with two vacant lots in Mexico Beach, Florida. This is a very popular beach establishment known by all for its good food, drinks, wedding venue, music and its beautiful gulf front location. You can visit our website at http://www.johnroebuckauctions.com to view a property video. The property has an existing cash flow of several million dollars per year and is a turnkey operation that will come fully equipped (excludes food/beverages). In addition to buying a prime beach front multi-million dollar location and a thriving business, all staff is included, if you choose. This team's top priority is to provide the very best customer experience.

To bid on this property package, go online http://www.johnroebuckauctions.com and print a bidder package that will include the instructions on how to submit your offer; such as contact information, proof of funds and making the appropriate deposit to John Roebuck Auctions (JRA).
Bidding will start at $2.5M for the total package.
Sealed Bids will be accepted until Thursday, December 8th at 5:00 pm CST and the top six bidders will be notified by phone or email.
The top 6 bidders will participate in a live outcry bid-off in person or phone by auctioneer John Roebuck on Saturday morning, December 10th at 11:07am CST at the business location in Mexico Beach, Florida.
We will hold inspections on December 5th, 6th and 7th. The restaurant will close during this time. The winning bidder will be asked to sign a sales contract and make a non-refundable deposit of ten (10%) percent with a closing date of forty five (45) days or sooner.
Mr. Roebuck will gladly be available for interviews upon request.
John Roebuck Auctions is a nationwide auction company with over four decades of proven success.
Contact: John Roebuck
Office Phone: 888-763-2825
Cell Phone: 850-654-6000
Email: john(at)roebuckauctions(dot)com
Webpage: http://www.johnroebuckauctions.com
###