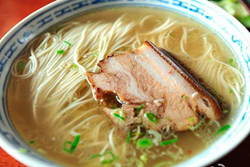 Suzhou, China (PRWEB) November 14, 2016
As temperatures begin to drop across much of North America, Suzhou Tourism launches the "Suzhou Noodles" Instagram photo contest to help comfort consumers with vibrant visuals of this warm, soothing cuisine. Knowing that traveling to a destination with the specific purpose of enjoying an authentic culinary experience has become a vital part of any vacation, Suzhou Tourism is capitalizing on its long-standing history for specializing in one particularly popular gastronomical trend for the foodie traveler – soup noodles. During this five-day contest, Suzhou Tourism will showcase a variety tasty noodles and educate consumers about the culinary delights available at noodle shops across its historic streets.
Each day, from today through November 18, 2016, users are encouraged to participate in the "Suzhou Noodles" contest on Suzhou Tourism's Instagram account. To enter to win, users must follow @VisitSuzhou on Instagram and share their best photo or video of soup noodles enjoyed in any destination around the world (even their home) using the hashtag #suzhounoodles. Participants will have until 11:59pm EST each day to share their best visuals of noodles to be officially entered in the contest. The user who shares the best photo or video each day will be announced as the winner on Instagram at 9am EST the following day. A total of five winners (one each day) will be announced and will win a culinary-inspired craft made in Suzhou such as a handmade chopsticks. The contest will also be cross-promoted on Suzhou Tourism's Facebook and Twitter accounts to drive additional engagement and reach more followers.
The "Suzhou Noodles" Instagram contest is the second of four online events to debut as part of the destination's current social media campaign, "A Curated Look at Suzhou's Arts & Culture – No Visa Required," which began in June 2016. Each of the contests in the 12-month program aim to educate and engage users in a fun and captivating way about the different elements that make up Suzhou's key tourism offerings, inspiring travelers to visit the destination.
About Suzhou
Suzhou, the "Venice of China," is known for its elegant stone bridges, canals, flowing water, and noteworthy architecture. Located in the center of the Yangtze River Delta, approximately 60 miles west of Shanghai, Suzhou is one of the oldest cities in the Yangtze Basin dating back more than 2,500 years. The city boasts the beautifully manicured Classical Gardens of Suzhou, many of which have been designated a UNESCO World Heritage Site. Each year, millions of tourists travel to Suzhou to experience the destination's more than 400 attractions, ranging from pagodas and temples to historical districts and world-class museums. As the largest industrial city in China, Suzhou continues to develop, such as the Suzhou Industrial Park (SIP), which boasts five-star hotels, the iconic Lake Jinji, and Asia's largest over water Ferris Wheel.
Travel to Suzhou is easily accessible via three convenient area airports with non-stop flights from North America: Shanghai Hongqiao International Airport (SHA) offers bullet train service to Suzhou, which is approximately a 50-mile, 30-minute trip; Pudong International Airport (PVG) is approximately 65 miles from Suzhou, an hour and half drive; and Sunan Shuofang International Airport (WUX) is approximately 14 miles from Suzhou, a 30 minute drive.
For more information on Suzhou please visit http://www.TravelToSuzhou.com, follow us on Instagram @visitsuzhou, Twitter @VisitSuzhou and like us on Facebook at Visit Suzhou.