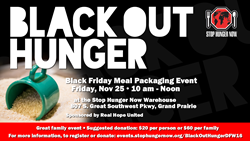 "We are excited about partnering with Stop Hunger Now. Not only do these events help feed hungry people around the world, but they are a really fun way for families to serve together." DeDe Jones, Real Hope United
(PRWEB) November 10, 2016
While many shoppers are fighting the crowds on Black Friday, volunteers in the Dallas area will be fighting world hunger. Stop Hunger Now and a local group of volunteers from Real Hope United are teaming up to package more than 15,000 meals for the world's hungry on Friday, November 25. The event is open to the public and volunteers are encouraged to sign up here with Stop Hunger Now.
The goal of the event is to raise $4,400 to fund over 15,000 meals to help those suffering from hunger around the world. Volunteers will be working from 10 am to 12 pm. Volunteers are invited to donate $20 each or $60 per family to fund the cost of the meals.
Stop Hunger Now meal packaging events are a volunteer-based program that coordinates the streamlined packaging of highly nutritious dehydrated meals comprised of rice, soy, vegetables and 23 essential vitamins and minerals. Since launching its Dallas Fort Worth location in 2013, volunteers in North Texas have packaged more than 8 million meals and made donations of more than $2.3 million.
"We are so excited about partnering with Stop Hunger Now in providing this way to serve others on Black Friday," said DeDe Jones, director of Real Hope United, the sponsor of this Black Out Hunger event. "Not only do these events help feed hungry people around the world, but they are a really fun way for families to serve together."
Around the world, nearly 795 million people lack adequate food. Stop Hunger Now operates meal packaging locations in 20 cities throughout the U.S. and six international locations in South Africa, Malaysia, the Philippines, Italy, India and Peru. Last year, more than 353,000 volunteers from corporations, churches, schools and civic organizations packaged Stop Hunger Now meals.
For more information contact Jeff Jones, Program Manager Stop Hunger Now Dallas Fort Worth at 214-377-0573 or jjones(at)stophungernow(dot)org. Volunteers must register here.
About Stop About Stop Hunger Now
Stop Hunger Now works to end hunger by providing food and life-changing aid to the world's most vulnerable people, and by creating a global commitment to mobilize the necessary resources. Based in Raleigh, N.C., Stop Hunger Now operates meal packaging programs in 20 U.S. cities and in South Africa, Malaysia, India, Italy, Peru and the Philippines. For information, visit http://www.stophungernow.org.