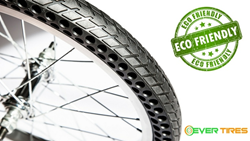 We're grateful for the support from bikers around the world who are clearly fed up with the inconvenience and expense of punctured tires
SPANISH FORK, Utah (PRWEB) November 10, 2016
The creators of Nexo Tires and Ever Tires have sped past their crowdfunding goal on Kickstarter with an ingenious way to eliminate flat tires.
"Our tires solve the number-one repair problem," said Nexo Co-Founder Dave Ballard. "We're grateful for the support from bikers around the world who are clearly fed up with the inconvenience and expense of punctured tires."
Created by three biking evangelists who operate Utah's popular Noble Cycling, they set out to find a solution for their customers after servicing thousands of flat tires at their bike store.
Flat tires are a thing of the past when using Ever Tires and Nexo Tires. It means bikers of all ages won't have to search for air pumps or waste money and time getting tires repaired. Cyclists around the world will be able to enjoy riding without the annoyance of flat tires.
Nexo Tires are rated for up to 5,000 kilometers, while Ever Tires have a travel rating of up to 5,000 miles (equivalent to riding across the United States and back). Both Ever Tires (developed for casual riders, comfort riders, cruisers and kids' bikes) and Nexo Tires (developed for discerning bike enthusiasts who prefer hybrids, commuters, road bikes and folding bikes) are air-less and tube-less and are easy to install.
Nexo Tires are available in 20", 26", 27.5", 700 x 24c and 700 x 35c sizes, and Ever Tires are available for tire sizes ranging from 12" to 26" and 700 x 24c.
Both puncture-proof products are eco-friendly, using less material to make compared to traditional bike tires, and the long-lasting tires are easy to recycle -- unlike common bike tires that sit in landfills for generations.
Ever/Nexo Tire backers are being offered at early bird specials starting at just $75 during crowdfunding. For more information, visit the Campaign Page on Kickstarter.
About Nexo
Nexo is a Utah-based company founded by three 'biking evangelists' and lifelong friends, Dave Ballard, Ryan Cook and Jake Hamblin. The team has operated Noble Cycling, 'The friendliest bike shop in Utah,' since 2009. After seeing the waste of customer time and money that came with bicycle flats, they set a goal to rid the world of the problem that was causing their customers grief – and stopping the flat tires from ending up in landfills. Extensive research, development and experience went into the creation of Ever and Nexo's patented design, materials and manufacturing. For more information, visit http://www.EverTires.com and http://www.NexoTires.com.