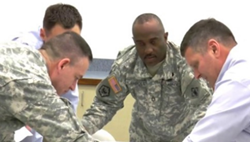 USAA's sponsorship allows us to leverage our individual transition experiences and 20 years of corporate consulting to train service members how to clearly and strategically establish a path to a meaningful civilian career, said Mike Kelly.
El Paso, Texas (PRWEB) November 10, 2016
Fort Bliss is this year's final stop for the USAA-sponsored Military Transition Seminar (MTS), a career-planning seminar for exiting service members and their spouses. Service members and military spouses are invited to join this day-long course created-and-delivered by Afterburner Inc.'s team of veterans given at installations around the country.
Service members from every branch and their spouses will come together Tuesday Nov. 15, 2016 at Centennial Banquet and Conference Center located at 11199 Sergeant E Churchill St, Fort Bliss, TX 79916 to participate in the MTS. The program will last from 0800-1700 MT. Registration will open at 0700 MT. There is no registration fee and breakfast and lunch will be provided.
The full-day seminar is part of a larger initiative to encourage military members to think more strategically about their transition to civilian life well in advance of their separation or retirement dates. The course curriculum trains veterans to identify key areas of consideration and to use those areas as guidance throughout the planning process. Participants develop career-planning strategies and learn job search skills such as networking, interview preparation and how to incorporate all facets of their support network. Most importantly, veterans are shown the importance of developing a lifetime civilian career as opposed to securing an initial job.
As part of the seminar, participating service members benefit from applying the same planning processes Afterburner deploys at Global 2000 corporations, providing each participant with an individual career plan, complete with a personal value proposition, career objectives customized to his or her previous experience, and insight into industries where military core competencies are in high demand.
"The seminar training was phenomenal. I was very impressed with the professionalism, content, and methods of instruction delivery (as well as the takeaways)." -LTC Richard F.
The MTS curriculum is based on Down Range: A Transitioning Veteran's Career Guide to Life's Next Phase, a transition guidebook co-authored by Afterburner Founder & CEO, James "Murph" Murphy, and Director of Learning & Development, Retired Navy Cmdr. William M. Duke. As part of the seminar, each participant will receive a copy of the guide.
In founding Afterburner, Murphy developed a team of veterans whose military training, experiences and skills are in high demand among global corporations. "Each week, we train industry-leading corporations to operate with the precision of elite military teams," said Murphy. "These best-in-class organizations recognize and seek the skill sets that military service members possess, yet our veterans struggle to find 'employment with purpose' that aligns with the sense of mission and esprit de corps they experienced while serving."
"This is not a disparity in talent or experience, but a lack of alignment and communication," said Mike Kelly, retired Air Force officer and assistant vice president of military advocacy at USAA. "USAA's sponsorship allows us to leverage our individual transition experiences and 20 years of corporate consulting to train service members how to clearly and strategically establish a path to a meaningful civilian career."
Since December 2013, the MTS has been delivered 30 times across 22 installations, equipping veterans and their spouses with the insights and techniques to create transition and career development plans.
About USAA
The USAA family of companies provides insurance, banking, investments, retirement products and advice to 11.8 million current and former members of the U.S. military and their families. Known for its legendary commitment to its members, USAA is consistently recognized for outstanding service, employee well-being and financial strength. USAA membership is open to all who are serving our nation in the U.S. military or have received a discharge type of Honorable – and their eligible family members. Founded in 1922, USAA is headquartered in San Antonio. For more information about USAA, follow us on Facebook (https://www.facebook.com/USAA) or Twitter (@USAA), or visit https://www.usaa.com.
About Afterburner, Inc.
Afterburner Inc. was founded in 1996 by U.S. Air Force fighter pilot James "Murph" Murphy and trains organizations around the world in the simple, scalable improvement processes of Flawless Execution. Afterburner brings elite military precision to top corporations around the world with a client list that includes over 85% percent of the U.S. Fortune 50. Afterburner has ranked on the Inc. 500/5000 List of America's Fastest Growing Companies five times and has been featured in leading publications like The Wall Street Journal, Businessweek, Financial Times, Newsweek, Slate, Sports Illustrated and Atlanta Business Chronicle. Afterburner also has appeared on CNN, ABC, CNBC, Fox News, HLN and Bloomberg News, among others. To learn more about Afterburner's innovative approach to building elite teams and Flawless Execution, follow us on Twitter @AfterburnerInc or visit http://www.Afterburner.com or call (888) 982-6764.