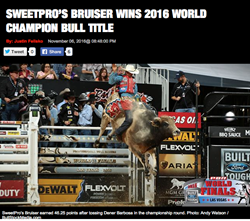 SweetPro's Bruiser Wins 2016 World Champion Bull Title
Las Vegas, Nevada (PRWEB) November 11, 2016
As reported on the PBR web site ". . . Bruiser was able to find his inner strength to dislodge 2016 PBR Brazil champion Dener Barbosa at the 7.15-second mark to propel himself to the 2016 World Champion Bull title with a 46.25-point bull score. Bruiser won the championship with a total two-out bull score of 90.75 points and his season-long consistency came up clutch at the Built Ford Tough World Finals."
The top three PBR bulls this year – SweetPro's Bruiser, last year's champion bull SweetPro's Long John also owned by D&H Cattle Company, and Pearl Harbor owned by Chad Berger Bucking Bulls, ended in a tie for first place. SweetPro's Bruiser was given the title based on a better overall record for the year. All three bulls use SweetPro products, including SweetPro tubs, Fresh Start and EquiPride for optimum competitive performance.
This week was also the fifth consecutive year that the ABBI Championship has been won by a bull using SweetPro products. Chad Berger's Wicked Stick won the ABBI this year, following previous wins by SweetPro's Bruiser, SweetPro's Long John, Wyatt Crowder's The Rocker and D&H Cattle's Shepherd Hills Tested.
D&H Cattle has been using SweetPro products for their bucking bulls for over 8 years now, as a regular part of their program to breed and raise top performing bulls. They have won numerous national championships with their bulls including SweetPro's Bruiser and SweetPro's Long John. 
SweetPro Feeds congratulates H.D. Page with his team at D&H Cattle Company in Ardmore, Oklahoma, and Chad Berger Bucking Bulls on their impressive finishes this year.
COMPANY INFORMATION
SweetPro Feeds is a U.S. manufacturer of premium feed supplements for cattle, horses and other livestock, made from condensed distillers solubles – CDS. Our patented process in non-molasses, all-weather, free choice blocks uses dried distillers grains that are fermented by yeast. SweetPro products are high in enzymes, multi-class prebiotic fibers, volatile organic acids and our blend additive ProBiotein. These support overall digestion, feed efficiency, animal health and performance by keeping livestock digestive systems performing the way nature intended.