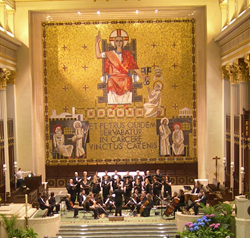 "The architecture of St. Peter in Chain's Cathedral allows the Symphony to authentically present Giovanni Gabrieli's 17th century poly choral instrumental works. — James Cassidy, KSO Music Director
Cincinnati, OH (PRWEB) November 11, 2016
The Kentucky Symphony Orchestra continues its 25th Anniversary Season with a rare appearance north of the Ohio River at St. Peter in Chains Cathedral in downtown Cincinnati. (The KSO performed Amadeus at Vespers in 2012 at the Cathedral). The KSO's penchant for thematic programming allows it to fittingly collaborate with other groups and venues on music that an orchestra would not normally program in the concert hall. "Touched By An Angel" represents such an opportunity to explore sacred and liturgical music in an apt setting, all while discovering historical contexts and offering a stunning area premiere. The Cathedral's professional choir, led by Anthony DiCello, teams up with the KSO's brass and strings for a sacred program spanning 400 years.
"The architecture of St. Peter in Chain's Cathedral allows the Symphony to offer Giovanni Gabrieli' s 17th century polychoral works with groups of KSO brass players in the lofts to either side of the altar," KSO Music Director James Cassidy mentioned. "The 20th century may have given us stereo and quadraphonic audio sound, but it was already happening between the 16th and 17th centuries in Venice." Anthony DiCello will lead the Cathedral Choir in two Gabrieli sacred works "In Ecclesiis" and Magnificat a 8 accompanied by members of the KSO. Four different canzonas, for 2 - 3 separate brass choirs, will be interspersed throughout the first half of the program.
The second act leaps ahead four centuries for a regional premiere of 35-year old Norwegian composer, Kim Andre Arnesen's serene and poignant Magnificat for solo soprano, choir, strings, organ and piano. Commissioned by the Nidaros Cathedral Girls ́ Choir in Trondheim, Norway, their premiere recording was nominated for a 2015 Grammy Award. Arnesen describes his Magnificat as a song of praise recounting the angel Gabriel visiting Mary with the message that she will be the mother of God's son:
"In this work I have tried to express what a young, poor woman must have felt upon receiving such a message: wonder, devotion, gratitude, joy, humility, hope and compassion". God has a heart for the poor, and when God chose a poor woman to be the mother of his Son, it says something about a bottom-up view of the world. My Magnificat is therefore a prayer for the sick, the poor, a song for help and hope for those who are struggling." — Kim Andre Arnesen
In a strident, non-stop, media-driven world, solace and reflection seem to be rare commodities. The Kentucky Symphony Orchestra welcomes people to spend 70 minutes in a spiritually nurturing environment, sure to both inspire and humble, accompanied by the wondrous gift of beautiful old and new sacred music at 3:00 p.m., Sunday, November 20 at St. Peter in Chains Cathedral. Reserved seating tickets are $19, $27, $35 (children ages 6-18 years old are 50% off) and are available online at kyso.org, by phone (859) 431-6216 or at the door.
About the KSO:
For nearly 25 years The Kentucky Symphony Orchestra has taken the "phony" out of symphony through live thematic concerts that culturally enrich, educate and entertain the residents of Northern Kentucky and Greater Cincinnati. The KSO performs throughout Northern Kentucky with three series of concerts.