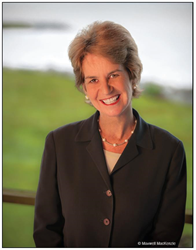 Pleasant Hill, Calif. (PRWEB) November 10, 2016
John F. Kennedy University is honoring Kathleen Kennedy Townsend, former U.S. deputy assistant attorney general and Maryland's first woman lieutenant governor, with the Kennedy Laureate Award for her exceptional advocacy of education and community service that embodies the John F. Kennedy University mission. Kennedy Townsend, a Harvard graduate and attorney who has received twelve honorary degrees, is the niece of the 35th President for whom the University was named.
Kennedy Townsend serves on the board of the John F. Kennedy Foundation, and is a research professor at the Georgetown Public Policy Institute, a visiting fellow at the Kennedy School of Government at Harvard, and was named a Paul H. Nitze Senior Fellow at St. Mary's College of Maryland. In addition, she founded the Robert F. Kennedy Human Rights Award in 1984 to honor courageous activists who spoke truth to power. The oldest of 11 children of Robert and Ethel Kennedy, Kennedy Townsend led an effort as founder and director of the Maryland Student Service Alliance to make Maryland the first state instituting community service as a graduation requirement
"We are so very honored to have Kathleen Kennedy Townsend join us this evening for this special event and recognition as she embodies so clearly the dedication and community service that we value so highly among our own university community," said JFK University President Debra Bean. "Her many contributions through her public service and her actions that demonstrate community before self are representative of the ideals we can all strive to emulate for the betterment of our communities and society at large."
In the same spirit of Kennedy Townsend's emphasis of community service and education, JFK University has a Service Learning program that requires students to dedicate at least 30 hours to community projects that are aligned with their academic specialty areas toward community projects.
Kennedy Townsend will receive the Kennedy Laureate Award at a dinner on November 12 at the Blackhawk Auto Museum in Danville, Calif. Consistent with the University's themes of lifelong learning and service to the community, the dinner is also a fundraising event directly funding educational scholarships. A generous 1:1 matching grant up to $100,000 has been set up to support the University's Student Success Center, which offers dedicated services and resources to support Hispanic/Latino students and others and from underserved communities. Additional funding designations are available for specific programs and returning military veterans.
Two other honorees will be recognized at the event who have ties to the San Francisco Bay Area, where JFK University is located. The Wente Vineyards Family of Livermore, Calif., and Eric Rudney of Alamo, Calif., will also be awarded the Kennedy Laureate Award that evening. The Wente Vineyards Family includes fourth and fifth generation winemakers in California's Livermore Valley; Rudney is a philanthropist supporting numerous nonprofits through his leadership and volunteer work in the San Francisco East Bay area.
The awards program will include dinner, silent and live auctions, and comments from the award recipients. Tickets are $300 each for a VIP Reception and dinner or $200 each for dinner and are available by contacting Anne Marie Taylor at 925.969.3491 or amtaylor(at)jfku.edu.
# # #
About John F. Kennedy University
For over 50 years, John F. Kennedy University, a non-profit affiliate of the National University System, has offered undergraduate, graduate, and doctoral programs that prepare individuals for career success while also engaging the student in personal growth through a commitment to service. Today, the University's three Colleges provide innovative higher education opportunities to 1, 200 professionals who, despite a full range of life responsibilities, are determined to advance their education and improve their future. The Continuing Education division provides professional development education to more than 2,500 individuals per year. A pioneer of education that integrates theory and practice, John F. Kennedy University and its students touch the lives of more than 30,000 people in Bay Area communities every year through their support of outreach centers and public programs. For more information, visit http://www.jfku.edu.