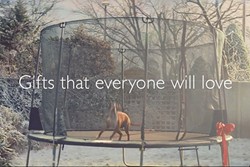 A Plum® trampoline will no doubt be the gift of choice for families across the UK this Christmas.
Lincoln Lincolnshire (PRWEB UK) 11 November 2016
As always it's been the most anticipated advert of the year. Not only were there sneak peaks and leaks, a student paying homage to the adored retail chain got caught up in the festive madness. It's been a long and exciting wait but finally it's here!
The John Lewis Christmas ad has once again got us into the spirit of things. It's still November but now all we can think about are Christmas gifts, log fires and snow covered lawns. This year John Lewis has embraced the magic of the holiday season as well as the magic of the back garden. With a comedic twist and, "gifts that everyone will love", a Plum® Trampoline is at the centre on the action.
Buster the Boxer and a little girl called Bridget are without a doubt the stars of the show, closely followed by our wildlife neighbours, all eager to bounce bounce on a Plum® Trampoline. Plum® the No. 1 active play specialists are leaders in the trampoline market and specialise in outdoor and role play toys.
David Woodman, the Director of Product Development at Plum said, "A trampoline is a product that will bring the whole family together, as illustrated perfectly by John Lewis. Plum® are at the forefront of trampoline design and innovation, 28 years experience in trampoline development makes us the UK leaders. Plum's springsafe® technology ensures an even and controlled bounce with innovative spring protection. Plum's in-house design team develop all products in the UK, Plum® ensure maximum fun and safety and guarantee an exciting product."
Mark Wilson Managing Director at Plum said, "The whole family can enjoy active play all year round, with 20 minutes of trampolining you can burn 100 calories, a NASA study showed rebounding on a trampoline is 68% more effective than jogging with much less effort. A trampoline is the gift to keep you active this Christmas and New Year. Why buy a tablet, get a trampoline, a gift that everyone will love!"
A Plum® trampoline will no doubt be the gift of choice for families across the UK this Christmas.