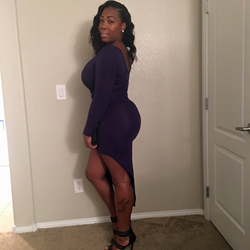 I can finally stop hiding and start living.
Las Vegas, NV (PRWEB) November 14, 2016
Las Vegas mother of three, Patrice J. was interviewed on FOX 5's "More Show" discussing her mommy makeover results from MyShape Lipo. She had liposuction of the abdomen and waist to give her an hourglass figure. Then she had her fat transferred to her butt, aka Brazilian Butt Lift, to give her the sexy curvaceous body she had been dreaming about. She now says, "I can finally stop hiding and start living."
Most of people know the trauma that birth causes on the woman's body. After child birth, one may have retained more fat in areas like the abdomen that drives a woman crazy because it's difficult to lose with diet and exercise. In addition many women have the issue with losing volume in areas like the breast and the butt. Patrice is the perfect example of one of these mothers that felt her body was ruined after having their children, she couldn't get rid of her "spare tire" around the waist and felt that she had a flat butt.
Because of the gained weight around the midsection she was left with a "boxy shape" and flat butt. Her body changes had a profound impact on her confidence. "I would avoid parties and definitely wouldn't go out by the pool," says Patrice. "I've been saving up for 4 years to finally get the body I wanted."
Trevor Schmidt PA-C, the owner and liposuction specialist at MyShape Lipo has performed well over 15,000 liposuction procedures on men and women of all shapes and sizes. He helped Patrice to finally achieve the sexy hourglass figure and shapely backside she always desired.
"I'm so happy for Patrice, she has experienced some amazing results," says Schmidt. "It's so rewarding to see my patients get exactly what they are looking for, I'm so happy that I could play my role in her change."
The mommy makeover is a broad term that covers many type of procedures that would combat the issues women face after giving birth. One may have loose skin, deflated sagging breasts or an abundance of fat distributed in their problem areas. The mommy makeover is a customized procedure to the individual, so it's important to understand what the goal is as well as what the expectations are following the procedure.
MyShape Lipo specializes in liposuction (the permanent removal of fat), fat transfer (the ability to move fat from one area of the body to the breast or the butt), and Smart Lipo laser skin tightening (which has ben shown to offer 57% more skin tightening than liposuction alone.) These services are used in various combinations to achieve the specific goals that exceed the patient expectations.
"We're just trying to help women get back to where they once were, to improve their proportions and ultimately help them improve their confidence," says Schmidt. "So many women tell us that this literally changes the way they live and the things that they do."
"I was so excited to get a whole new wardrobe to fit the new me," said Patrice. "I can't tell you how happy I am and how much this has improved my confidence, it's time to start living again.
About MyShape Lipo
MyShape Lipo is a liposuction specialty clinic located in Las Vegas, NV and attracts patients from around the world with their affordable rates and extensive experience. Trevor Schmidt PA-C, the owner and liposuction specialist has performed over 15,000 liposuction procedures and has the experience to help both men and women of all sizes. They offer services in liposuction to permanently remove fat from unwanted areas. Fat transfer is the ability to take fat away from one area and transfer it to their breasts or the butt for a more natural enhancement. They are currently running a "Free Lipo Contest" where they are giving away 3 areas of liposuction. To enter, text "FREELIPO" to 44222. If you would like a free consultation, call now, 702-818-5476. view the photo gallery online at http://www.myshapelipo.com.