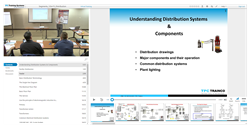 Simulcasting our instructor-led courses gives TPC Trainco's needed flexibility for their workforces to gain the necessary skills required to be effective maintenance technicians
Buffalo Grove, IL (PRWEB) November 15, 2016
TPC Trainco recently announced that it will simulcast its popular Pump Repair & Maintenance two-day training seminar as part of its new Live Online line-up of live, web-based courses. TPC Trainco's simulcast capability delivers expert instruction to students located anywhere with an internet connection. This unique experience removes the requirement of traveling to a training site, which ultimately gives facilities greater access to courses outside of TPC's regular schedule of local classroom-based seminars. TPC Trainco plans to rapidly expand the availability of both simulcast and webcast-based courses across its roster of over 2,000 instructor-led courses held in over 200 cities.
The Pump Repair and Maintenance course is a two-day live online simulcast of a classroom-based course taking place on Dec 7-8, 2016 in Houston, TX. The course is designed for anyone who needs to sharpen their pump and pump system troubleshooting and repair skills. For the first time in the brand's 14-year history, online registrants will learn practices that increase efficiencies and uptime from their desktop alongside in-person classroom attendees, taught by a live instructor.
As part of its Live Online line-up, TPC Trainco has also piloted dedicated webcast courses on the GoToTraining platform. The success of these pilots among maintenance teams seeking a more convenient means of accessing instructor-led training has led to an expanded Live Online schedule in 2017. The simulcast pilot represents ongoing innovation in using digital tools to expand the availability of live training.
"Simulcasting our instructor-led courses gives TPC Trainco's needed flexibility for their workforces to gain the necessary skills required to be effective maintenance technicians," said Andrew Kauser, CEO of TPC Training Systems.
Simulcast seminars make use of integrated audio and video technology that effectively delivers classroom content to students learning at computer workstations. As in a traditional seminar, the instructor utilizes whiteboards, demonstrations, illustrations, Q&A, and classroom exercises to engage students and ensure retention of the material. The simulcast technology will give online attendees a complete training experience, with full access to instructor content and course materials.
To register for the upcoming simulcast, visit http://www.tpctrainco.com/PRS. The full line-up of Live Online courses is available at http://www.tpctrainco.com/live-online.
About TPC Training Systems: TPC Training Systems is a privately held company with headquarters in Buffalo Grove, IL. As part of Telemedia, LLC, the company offers a complete portfolio of training methods, including online, classroom, and on-the-job. The company has helped more than 40,000 client sites globally to train over 3.5 million skilled workers.