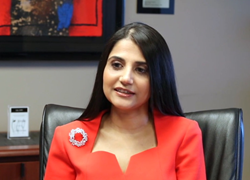 "We welcome Mr. Chahal to our Advisory Board. We have great faith in Mr. Chahal and his contribution to the Ad Tech industry and believe his addition will strengthen our position in identifying key technologies in the space," said Ms. Desai
Chicago, IL (PRWEB) November 14, 2016
NIN Ventures (or NIN.VC) has been on the forefront when it comes to being disruptive or investing in disruptive technologies. A disruptive technology is an innovation that changes an existing industry and also helps create a new market and value network, displacing an earlier technology or a way of doing business. At NIN.VC, we believe every sector at some point is up for disruption and as the consumer behavior patterns are changing, the ad tech industry is back on the radar. With that in mind, we are pleased to announce that Mr. Gurbaksh Chahal has joined NIN Ventures to be on the Advisory Board.
Mr. Gurbaksh Chahal is the Founder, Chairman, & CEO of Gravity4, the world's first high frequency marketing cloud that dramatically boosts digital marketing ROI across web and mobile (or personal devices) through display, search, email, video, social, TV, and apps. Mr. Chahal is a die-hard Internet entrepreneur. At the age of 16, in January 1999, he started his first company, ClickAgents, one of the first ad networks focused around performance-based advertising and eighteen months later sold it for $40 million to ValueClick. In January 2004, he launched his second company, BlueLithium. The company focused on data, optimization, and analytics and became a pioneer in behavioral targeting, which was later acquired by Yahoo! for $300 million in cash.
"We stand at the brink of time when personal devices are changing and taking over the world. It's an exciting time as we see digital programmatic advertising grow and become a dominant player across all sectors. It's time for the world to reinvent personalized marketing," said Mr. Chahal.
"We welcome Mr. Chahal to our Advisory Board. We have great faith in Mr. Chahal and his contribution to the Ad Tech industry and believe his addition will strengthen our position in identifying key technologies in the space," said Nin Desai, CEO of NIN Ventures.
About NIN Ventures
NIN Ventures (or NIN.VC) is a unique and first of its kind crowdfunded technology venture capital fund for accredited investors who can invest in the NIN Ventures Technology (QP) Fund with a minimum amount of $100,000 using multiple investment options like self-directed IRAs, Defined benefit plan, digital currencies (E.g. Bitcoin, Litecoin, Dogecoin), or a regular checking / savings account. NIN Ventures invests in early / growth stage 3D printing, the 4th industrial revolution, cloud computing, virtual reality, financial services, education software, and other disruptive technology companies.
For media inquiries please contact: press(at)nin(dot)vc