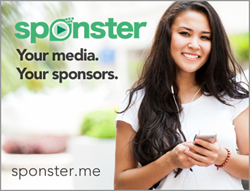 Any ad model that does not fully acknowledge consumer control is out of touch - and temporary.
San Mateo, California (PRWEB) November 15, 2016
Qlarius, a consumer data and ad tech startup headquartered in San Mateo, California, is launching a unique media sponsorship platform designed to fit the way media is really consumed in the 21st century. Launching into "Limited Beta" this month, Sponster™ provides on-demand sponsorship to help pay for on-demand media.
Sponster's big idea is that advertisers should stop sponsoring media, and start sponsoring people. The platform allows advertisers to skip the wasteful guesswork required by media placement. Instead, advertisers define and attach ads to individuals within a specific trait-defined audience and help foot the bill for their personal media choices in exchange for quality one-on-one attention. Sponster calls it "personal media sponsorship". (Explainer video available at Sponster site.)
Trae Nickelson, CEO of Qlarius, explains, "For decades, advertisers have sponsored media as proxies for people. But attaching your message to a particular show, time slot, website, or device, just doesn't work these days. Consumers have taken complete control over media consumption, making it an on-demand individualized transaction. Advertising must follow suit. Personal media sponsorship fits the way we really consume media these days."
Within Sponster, each consumer has any number of profile-matched advertisers bidding for the opportunity to sponsor his/her next content purchase. Each ad is presented along with a small cash amount which may applied immediately to help foot the bill when purchasing or supporting a content product. Consumers instantly convert their attention into real currency to support their personal media choices - they quite literally, pay attention.
"Yes, there is some really cool technology involved," explains Nickelson, "but more importantly, we have realigned and corrected the core economics of advertising and media sponsorship, with the consumer placed rightfully at the center of it all. Any ad model that does not fully acknowledge consumer control is out of touch - and temporary."
Sponster has broad plans for personal media sponsorship, spanning from mobile devices to living room entertainment systems. As the first step during the limited beta period however, they will focus on blogs and other web-based content sites by providing a unique embeddable "tip jar" ad player widget. As ads are consumed via the tip jar adget, Sponster shares revenue with the hosting site/blog and allows the consumer to split their own proceeds with the site as a tip. A demo video of the tip jar is provided at the Sponster website.
While the limited beta is open to anyone, Sponster will be initially focused on building a quality experience for 20-30 select blogs and sites.