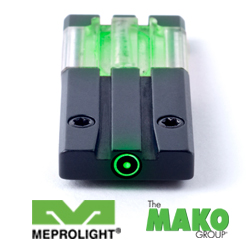 Farmingdale, New York (PRWEB) November 14, 2016
The Mako Group's Annual Black Friday Sale starts early this year! Beginning November 14, the finest tactical weapon accessories from Meprolight and FAB Defense will be available at http://www.themakogroup.com at the lowest prices available all year— 30% off! Meprolight and FAB Defense products are designed for, tested by and used by law enforcement agencies and militaries worldwide. On top of 30 percent off, all orders will receive free shipping with no minimum purchase required, just use promo code 30PR at checkout.
The Mako Group is the go-to source for your weapon accessory needs. The sale applies to all items, so now's the time to upgrade your rifle build with FAB Defense components or upgrade your optics with the popular and trusted, Tru-Dot RDS by Meprolight.
Meprolight night sights and optics revolutionized pistol sights this year with the release of the FT Bullseye. The first of its kind, the FT Bullseye is a single-rear sight combining fiber optics and tritium creating the brightest, most instinctual micro optic on the market. Shooters align the dot within the circle to create a "bullseye" in order to get on target. Compared to other pistol optics, the FT Bullseye is affordable, starting at $199 and it fits into standard holsters.
FAB Defense has hundreds of products available to enhance the precision and accuracy of your rifle. From buttstocks to foregrips, slings, rails, personal defense conversion kits, holsters and targets, FAB Defense has it all. One of the most popular buttstocks is the GL Mag, this survival stock allows the shooter to store an extra mag on the gun for when you're in a pinch, plus, in states where magazine capacity is restricted, this is a legal way to carry more ammunition on the weapon.
About The Mako Group:
The Mako Group is the exclusive U.S. distributor of the finest tactical equipment and weapon accessories that have been proven in combat. Designed for law enforcement agencies and militaries worldwide, Meprolight night sights and optics, FAB Defense weapon and personal defense accessories, Front Line Holsters and RTS Target Systems, are available at firearm retailers everywhere. Connect with The Mako Group on Facebook, Twitter and Instagram to stay up-to-date on the latest news and products. For more information visit http://www.themakogroup.com
# # #