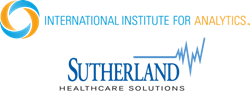 IIA's Analytics Maturity Assessment and extensive research library will make the dataset and actionable insight needed by a wide range of clients more accessible," said Sutherland CEO Dr. Graham Hughes
Portland, Oregon (PRWEB) November 15, 2016
The International Institute for Analytics (IIA) today announced a partnership with Sutherland Healthcare Solutions, Inc. The partnership will provide players across the healthcare continuum —from providers to insurers – increased accessibility to analytics capabilities to help them navigate the ongoing transition to value-based care.
This collaboration gives Sutherland access to IIA's extensive library of research and consulting expertise. It also enables Sutherland's team of analytics experts, or SmartHealthAdvisors, to become certified practitioners of IIA's Analytics Maturity Assessment (AMA). Sutherland is an innovative leader in healthcare IT and analytics services, offering not only the technology and consulting solutions, but also the trained experts that healthcare organizations of all sizes require for targeted deployment.
AMA is a survey-based, software-driven benchmarking system that measures an organization's ability to use analytics effectively. It can synthesize 2,000+ employee surveys into an actionable assessment of 33 organizational competencies. The AMA provides users with meaningful comparisons against other industries, including Digital Natives.
"Sutherland is an innovative and rapidly growing leader in healthcare IT and analytics services with a proven track record of delivering value to healthcare customers of all sizes," said IIA CEO Jack Phillips. "We look forward to working with Sutherland's highly qualified analytics experts to guide healthcare stakeholders toward effective analytics strategies that are individualized, cost-effective, and sustainable."
Mr. Phillips went on to note that while the healthcare industry has recognized the potential analytics has to revolutionize operations and transform the patient experience, inadequate tools, data, and analytics expertise, combined with inadequate funding, are often a hindrance. And these barriers disproportionately impact small to mid-sized healthcare organizations; the same organizations that are most in need of analytics expertise. The Sutherland-IIA partnership gives healthcare organizations of all sizes access to cost-effective, enterprise analytics expertise that is typically limited to larger, more sophisticated organizations.
"Sutherland has a history of bringing increasingly advanced analytics capabilities to our clients," said Sutherland CEO Dr. Graham Hughes. "Through our partnership with IIA, a recognized thought leader in developing analytics capability, we will be able to extend and refine that history. IIA's Analytics Maturity Assessment and extensive research library will make the dataset and actionable insight needed by a wide range of clients more accessible – and that will help us realize our goal of increasing our clients' ability to improve care while controlling costs."
About International Institute for Analytics
The International Institute for Analytics (IIA) is the authority on analytics maturity and best practices. The research and advisory firm co-founded by Tom Davenport and CEO Jack Phillips, works across a breadth of industries to uncover actionable insights from its network of analytics practitioners, industry experts and faculty. IIA's Research and Advisory Network (RAN) clients gain access to an extensive research library, faculty-moderated discussions and an inquiry service with direct access to over 150 analytics experts. IIA also provides analytics assessments, evaluations, workshops, program strategy consulting and training – keeping business leaders and analytics professionals on the cutting edge of analytics in the new data economy. Since its inception, SAS, Intel, Teradata and Dell have supported IIA as underwriters. For more information about IIA, and how you can become a member, visit http://www.iianalytics.com.
About Sutherland Healthcare Solutions, Inc.
Sutherland Healthcare Solutions is a wholly owned subsidiary of Sutherland Global Services, Inc., a global provider of business process and technology management services with more than 38,000 employees and 60 global locations. Headquartered in Clifton, New Jersey, Sutherland Healthcare Solutions is a leading provider of consulting, business process outsourcing (BPO), information technology outsourcing (ITO), and analytics services to the entire healthcare ecosystem. With 5,000 dedicated employees in 15+ global sites, Sutherland delivers customized and scalable solutions including contact center, provider data management, coding, revenue cycle management, healthcare IT, experience consulting, and population and payment solutions. Learn more at http://www.sutherlandhealthcare.com.