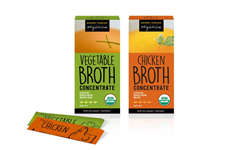 This new certification allows us to share our high quality broths and stocks with organic consumers and verifies our commitment to sourcing the highest quality organic ingredients -- President Doug Takizawa
Union City, California (PRWEB) November 14, 2016
Savory Creations International, is pleased to announce that their manufacturing facility has received certification by Quality Assurance International (QAI) as an Organic Processing Manufacturing Facility.
Since the certification, SCI has added a new organic line to their current offerings under the Savory Choice brand. The new Savory Choice Organic line includes both chicken and vegetable varieties of liquid broth concentrates. These new items have been carefully crafted using only the highest quality organic ingredients and are naturally gluten-free and simply delicious.
Savory Creations International is the premier supplier of natural broths, stock, and demi-glace concentrates for retail, foodservice and industrial use. Founded in 2003, their products are proudly manufactured in Northern California, in a certified (SQF) 2000 level 3 food facility. SCI continues to be a privately held, family owned certified minority owned business committed to providing safe quality foods for families to enjoy.