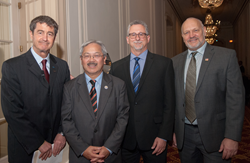 Our Veterans Day Dinner allows us to raise the crucial funds needed to serve San Francisco's veteran population. Without support from the community, our work would not be possible," said Mr. Blecker.
San Francisco, California (PRWEB) November 11, 2016
On Monday, November 7, 2016, Swords to Plowshares, San Francisco's leading nonprofit veteran service agency, hosted its 20th Annual Veterans Day Dinner. More than 500 community supporters came together to honor the work of Swords to Plowshares and the thousands of Bay Area veterans they have served. This year, supporters helped make our 20th Annual Veterans Day Dinner our most successful fundraiser yet. Swords to Plowshares raised close to $500,000 to support our critical services for low-income and homeless veterans.
The Fund-a-Need pledge drive was dedicated the memory of our faithful supporter Jon Paulson. Our generous supporters helped us to meet our $100,000 Fund-a-Need goal to support our critical legal services for homeless and low-income veterans in memory. Every $1 pledged towards our free legal services, results in $20 leveraged in direct VA benefits for veterans, resulting in a $2,000,000+ impact for veterans most in need.
The following awardees were honored:
Swords to Plowshares honored its Executive Director Michael Blecker's 40 years of devoted service to helping veterans in need. The City and County of San Francisco further recognized Michael Blecker's commitment to the veteran community by declaring November 7th, 2016 as Michael Blecker Day.
The law firm of Latham & Watkins, LLP was named the 2016 Pro Bono Partner of the Year for their involvement with taking on full representation of 12 veteran's cases, staffing numerous Legal Drop-in Clinics, and for working closely on a Rulemaking Petition to change VA policies that unnecessarily deny hundreds of thousands of veterans access to VA healthcare and benefits.
David Addlestone, a Vietnam Air Force veteran, revered veteran advocate, and former co-director of the National Veterans Legal Services Program, was named the 2016 Community Hero for his lifetime of dedicated advocacy on behalf of veteran.
Daniel Ramirez, a Korean War veteran in the U.S. Army and former Swords to Plowshares' Legal client; and Isaac Baires, a U.S. National Guard veteran, single father of three young children, and graduate of Swords to Plowshares Employment and Vocational Training program were presented with the 2016 Profiles of Courage award. The Profiles of Courage award recognizes veterans who have turned their lives around and shown courage in the face of adversity. Daniel Ramirez and Isaac Baires' stories illustrate the success of the full range of services that Swords to Plowshares provides and demonstrate the personal impact of Swords to Plowshares' nationally-recognized programs.
"The services that we offer empower veterans to live meaningful and productive lives. We restore dignity and hope to veterans in need on a daily basis. Our Veterans Day Dinner allows us to raise the crucial funds needed to serve San Francisco's veteran population. Without support from the community, our work would not be possible," said Mr. Blecker.
Sponsors of the 20th Annual Veterans Day Dinner include; Morrison & Foerster Foundation and Morrison & Foerster LLP, Keker & Van Nest LLP and John & Tina Keker, Qatalyst Partner, Zephyr Real Estate, Chevron, Latham & Watkins LLP, Gibson Dunn, Wells Fargo, RHE Foundation, and William & Sherrie Millichap Family Foundation
About Swords to Plowshares:
Founded in 1974, Swords to Plowshares is a community-based not-for-profit organization that provides case management, mental health assessment and referral, rapid re-housing and eviction prevention services, employment and training, supportive housing, and legal benefits assistance for low-income, homeless and at-risk veterans in the San Francisco Bay Area. Swords to Plowshares promotes and protects the rights of veterans through advocacy, public education, and partnerships with local, state and national entities. Learn more about the work of Swords to Plowshares, and ways in which you can help, by visiting our website at http://www.stp-sf.org.