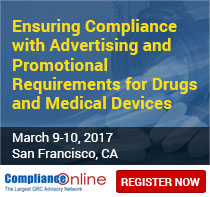 Course "Ensuring Compliance with Advertising and Promotional Requirements for Drugs and Medical Devices" has been pre-approved by RAPS as eligible for up to 12 credits towards a participant's RAC recertification upon full completion.
Palo Alto, CA, USA (PRWEB) November 12, 2016
Led by well-known FDA Lawyer Michael Swit, ComplianceOnline's on-demand seminar on advertising and promotional requirements for drugs and medical devices returns to California in 2017. The two-day training program will address in detail FDA requirements for drug and device firms as well as recent current hot buttons in FDA enforcement activity for the advertising arena.
Given the endless updates in the regulated industry, each session in the seminar will discuss these industry updates and focus on best practices to avoid Warning Letters and other regulatory enforcement actions.
The seminar will cover topics such as distinctions between labels, labeling and advertising, and how that impacts FDA's powers, how to properly position Direct-to-Consumer (DTC) promotions, the Dos and Don'ts of promoting products on the internet, including social media sites such as Facebook and Twitter, the perils of off-label promotion and much more.
The 2016 participation for this event from various healthcare and pharma organizations, such as SSCOR, Inc., GSK, Grifols Diagnostic Solutions, Inc., Gilead Sciences, Adamas Pharmaceuticals, Inc. and others, have made the event an industry platform to reckon with.
Seminar instructor Michael A. Swit, Esq., has been tackling critical FDA legal and regulatory issues since 1984. His experience includes FDA development strategies, compliance and enforcement initiatives, recalls and crisis management, submissions and related traditional FDA regulatory activities, labeling and advertising, and clinical research efforts. Mr. Swit has lectured and written on a variety of subjects relating to FDA law, regulation and related commercial activities and is a former member of the Food & Drug Law Journal Editorial Board.
This in-person training will assist sales, marketing, medical affairs, legal, regulatory, and compliance professionals within an organization.
For more information or to register for the seminar, please click here.
Dates: Thursday, March 9, 2017 (8.30 AM- 4.30 PM) and Friday, March 10, 2017 (8.30 AM- 4.30 PM)
Location: San Francisco, CA
Registration Cost: $1,899.00 per registration
Early bird discounts: For discounts on early registrations, please click here.
Register by phone: Please call our customer service specialists at +1-888-717-2436 or email to customercare(at)complianceonline(dot)com
For more information on ComplianceOnline or to browse through our trainings, please visit our website.
About ComplianceOnline
ComplianceOnline is a leading provider of regulatory compliance trainings for companies and professionals in regulated industries. ComplianceOnline has successfully trained over 35,000 professionals from 9,000 companies to comply with the requirements of regulatory agencies. ComplianceOnline is headquartered in Palo Alto, California and can be reached at http://www.complianceonline.com. ComplianceOnline is a MetricStream portal. MetricStream (http://www.metricstream.com) is a market leader in Enterprise-wide Governance, Risk, Compliance (GRC) and Quality Management Solutions for global corporations.
For more information please contact:
A Reuben Bernard
Associate Director - ComplianceOnline
2600 E Bayshore Rd
Palo Alto CA USA 94303
Phone - +1-650-238-9656 | +1-888-717-2436
Fax - 650-963-2556
Mail: reuben(at)complianceonline(dot)com
Website: http://www.complianceonline.com