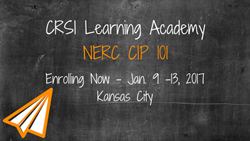 Lenexa, KS (PRWEB) November 14, 2016
Join Corporate Risk Solutions, Inc. (CRSI) the week of January 9, 2017 in Kansas City for a 4 ½ day deep-dive into the NERC CIP Reliability Standards, low impact programs, and effective audit preparation. The CRSI Learning Academy – NERC CIP 101 class is designed to rapidly instill understanding and confidence for newer or inexperienced staff in NERC CIP through a series of real-world based simulated exercises, expert-led instruction, and peer discussion.
Leading executives and key decision makers have expressed that within the next three years, between 5% and 20% of critical NERC CIP skills and knowledge will be lost in the electric utility industry. Where does your organization sit today?
The CRSI Learning Academy – NERC CIP 101 class was created to enable organizations to build and maintain a sustainable compliance program.
Learning Outcomes include:

Understand the strengths and weaknesses of CIP program organizational structures
Understand the possible documentation structures that work and don't work in CIP programs.
Understand the linkage between written procedure, evidence, and compliance.
Understand what constitutes good evidence of compliance and how to structure and retain it.
What the requirements say, both in the literal text and in additional sources such as auditor interpretations, NERC guidance, and informal industry practice.
The expected outputs from the program for the requirements.
Understand what is requested for the requirements in the standard NERC data request, and what exemplars look like.
Gain knowledge and insights into a variety of NERC CIP solutions and how they apply in different environments (large entity, small entity, control center, substation, generating station, etc.).
What the audit preparation playbook for the requirements looks like.
What (almost) never works, even though it's been attempted before.
Understand the various ins and outs of building a sustainable program for compliance and a focus on requirements for low impact assets.
Receive an up-to-date status on current Standard Drafting Team activities.
The NERC CIP 101 class is $3,295.00 per attendee, however, there are several discounts available. Register by November 23, 2016 to receive an 8% early-bird discount. Additional discounts are available, with a maximum discount of 20% per attendee. Space is limited to the first 30 registrants.
To learn more about available discounts, or to register for the NERC CIP 101 class, contact Corporate Risk Solutions, Inc. today by calling 866-492-7072, emailing info(at)corprisk(dot)net or visiting the CRSI Learning Academy homepage at https://corprisk.net/enhancedservices/crsi-learning-academy/.