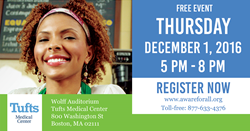 Boston, MA (PRWEB) November 14, 2016
On Thursday, December 1, the Greater Boston community will come together at AWARE for All - Boston to learn about the local clinical research environment. The AWARE for All program is a free educational event produced by the Boston-based non-profit Center for Information and Study on Clinical Research Participation (CISCRP). The event provides valuable information and education about the clinical research process, new medical treatments under development and how to determine whether to participate in a clinical trial. The event also serves as a forum for open dialogue between patients, members of the public, health and research professionals. And patients and the public will have access to a number of free health screenings.
This upcoming event is the ninth AWARE for All event held in the Boston area since 2003. Each event typically attracts 300 – 600 attendees. This year's AWARE for All - Boston event will focus on oncology clinical trials and will begin with an overview in both English and Cantonese. Health screenings will include Blood Pressure, BMI, cholesterol, and memory and there will be flu vaccines available. Free dinner, prizes, and giveaways will also be provided. Funding for this event is provided by CISCRP's National AWARE sponsors EMD Serono, Inc., a subsidiary of Merck KGaA Darmstadt, Germany, and the Lupus Research Alliance, as well as Founding Sponsor Sanofi, and local sponsors Dana-Farber / Harvard Cancer Center, the Massachusetts General Hospital Lazarex Cancer Center, the Office of Regulatory Affairs and Research Compliance at Harvard T.H. Chan School of Public Health, and Tufts CTSI.
This year, CISCRP is thrilled to recognize Sanofi as AWARE for All Boston's Founding Sponsor. Sanofi has dedicated a great amount of resources and support for the development of the program. Joanne Lager, Head of Oncology Development at Sanofi, comments "We are honored to be the Founding Sponsor of this clinical research education event. Sanofi is a global healthcare leader focused on patients' needs, so being part of this program is important for us to directly engage with and support the education of patients and the involvement of the community in research."
Ken Getz, CISCRP's Founder and board chair said "We are pleased to be back in Boston, our hometown, for the upcoming AWARE for All event. And we're grateful for the support that we have received from all of our community and research sponsors. The Greater Boston area has one of the most active medical research communities in the world. Our educational event is internationally recognized and we're very excited to be bringing health care providers, clinical research professionals and patients together once again."
The event will be held from 5-8 pm at the Wolff Auditorium at Tufts Medical Center and is open to the public. Advanced registration is strongly encouraged and available at https://awareboston2016.eventbrite.com or by calling 1-877-MED-HERO (1-877-633-4376).
ABOUT CISCRP:
The Center for Information and Study (CISCRP) is a 501(c)(3) non-profit organization dedicated to engaging the public and patients as partners in the clinical research process. CISCRP provides free education and outreach to the general public and patient communities. Visit http://www.CISCRP.org for more information or to support CISCRP's educational initiatives.
Editor's Note:
Community and research partners include: ACRP – New England, American Cancer Society, Boston University School of Medicine, Brigham and Women's Hospital, Clarion Healthcare, Dana Farber Cancer Institute, EMD Serono, Fenway Institute of Fenway Health, Harvard Catalyst, Harvard School of Public Health, Hummingbird IRB, Leukemia & Lymphoma Society, Massachusetts General Hospital, MassResearch, National Association for the Advancement of Colored People (NAACP), Quintiles, ResearchMatch, TargetCancer Foundation, Tufts Medical Center, Walgreens, and many other prominent community and research partners.