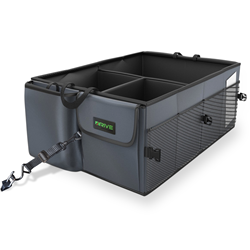 Tie-down straps to help prevent shifting and sliding
NEW YORK, NY (PRWEB) November 13, 2016
Drive Auto Products, an emerging leader in automotive accessories, recently announced the launch of its new car trunk organizer. The new product fills a void in the marketplace, boasting a reimagined design that includes a tie-down strap that prevents shifting and sliding.
Drive Auto Products conducted extensive research to determine drivers' habits and preferences, including what they did and didn't like about automotive organizers that they have used in the past. As a result, the company designed a car trunk organizer that fully addresses trouble areas found in other models, including flimsy sides, bases that cave in, slipping and sliding Velcro bottoms, lack of pockets and the inability to adjust the size of the organizer's compartments. Drive Auto Products' new design has been filed with the United States Patent and Trademark Office (USPTO) and the company has secured a patent-pending status.
"Originally, we were struggling with a reliable way of keeping prototype models from sliding around the trunk or tipping over and spilling its contents," said Ross Baker, president of product development. "We feel like we have a truly unique advancement in place now with the tie down straps, which has been performing beautifully to secure the organizer."
The new car trunk organizer from Drive Auto Products features reinforced panels and base plates to ensure that the organizer remains upright and sturdy while the car is in motion. The optional strap tie downs hook into the trunk like a cargo net around the seat backs or onto the backseat to ensure that belongings stay securely in place. Additionally, the organizer can be converted to front seat mode, which is intended for business and solo travelers who would like to set belongings on the passenger seat . The organizer can accommodate coffee mugs, water bottles, folders, tablets, phones, binders, pet supplies and more.
"This car trunk organizer from Drive Auto Products is an amazing organizational tool," said Andrea Dodge, a recent customer who purchased the product from Amazon.com and gave it a five-star review. "It has made storing items in my mini SUV a whole lot easier and less frustrating. The build quality of the whole unit is extremely robust and feels very premium. You will have an instant peace of mind once you take it out of its package."
Drive Auto Products' new car trunk organizer is available in dark galaxy grey and currently retails for $34. More information about the product is available at http://driveautoproducts.com/products/trunk-organizer and on Amazon.com.