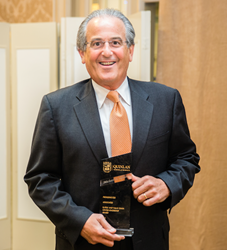 Addison, IL (PRWEB) November 13, 2016
The Supply and Value Chain Center at Loyola University Chicago's Quinlan School of Business announced the winners of its annual Supply and Value Chain Center Awards. The awards recognize outstanding performance of individuals and teams in categories including Leadership, Supply Chain Excellence, Innovation, and Sustainability.
Michael B. Romano, President and CEO of Associated, a provider of integrated supply chain solutions, was recognized with the 2016 Supply Chain Leadership Award. This award recognizes an individual who has demonstrated the values-based leadership espoused by Loyola's founder, St. Ignatius of Loyola: responsible leadership with a consistent focus on personal integrity, ethical behavior, and a balance between justice and fairness.
As a 35-year veteran of the material handling and supply chain industries Michael has dedicated his career to making significant contributions to every organization he has been associated with and has mentored countless leaders along the way.
Additionally, Mike has been a driving force behind the industry's initiative to gain a higher level of visibility among new talent. He has done this through his participation and leadership on various industry associations including serving on Loyola's Supply and Value Chain Board.
As an industry leader, Mike continually encourages the development and sharing of best practices and inspires other companies to do the same. That is why his expertise is often called upon to author articles for trade publications or to serve as a keynote speaker at industry events. He subscribes to the selfless mentality that if the industry is viewed as providing a higher level of strategic value, then we will all share in its success.
"The Annual Supply and Value Chain Center Awards gives us the opportunity to celebrate the incredible contributions of individuals and teams in supply chain to their companies, their communities, and our economy," said John A. Caltagirone, founding director of the Loyola Business Leadership Hub and executive director of the Supply and Value Chain Center. "We are pleased to honor these dedicated awardees as part of the annual Supply Chain and Sustainability Summit."
About the Quinlan School of Business Supply and Value Chain Center:
The Supply and Value Chain Center is part of the newly-created Loyola Business Leadership Hub within the Quinlan School of Business of Loyola University Chicago. The Center is dedicated to the development of leading-edge strategies and practical solutions to problems encountered by the business community relative to the management of the end-to-end supply chain. To serve the needs of the growing Chicago business community and beyond, the center provides the common platform where industry leaders and academics can exchange ideas and advance knowledge in global supply chain management. The center takes a pragmatic approach towards advancing the understanding and practice of supply chain management: demand forecasting and management; strategic sourcing and procurement; manufacturing and operations; inventory management; distribution; and transportation management. For more information, visit LUC.edu/quinlan/scm or read our blog.
About Associated:
Associated has over 55 years of providing customers with innovative solutions that optimize space, labor and order fulfillment operations within their supply chain. By utilizing their unparalleled experience and industry best practices they are able to evaluate current methods and processes for storage, order fulfillment, labor and equipment utilization and recommend practical strategies to enhance their effectiveness and reduce overall cost. In 2014 Associated acquired Peach State Integrated Technologies Inc., a professional services firm that provides strategic supply chain consulting and automated material handling solutions for their global clients. The merger has made the combined organization one of the largest supply chain solution providers in North America in both size and breadth of solution offerings. Associated has been the recipient of multiple awards in recognition of being a premier organization in the supply chain industry.
####
For additional information about Associated, visit the company Web site at http://www.associated-solutions.com or call (800) 755-7201.
Publisher note - Send reader responses to:
Associated
Attn: Debbie Tworek
133 North Swift Road
Addison, IL 60101
Phone: 630-588-3572
Fax: 630-588-8815
dtworek(at)associated-solutions(dot)com