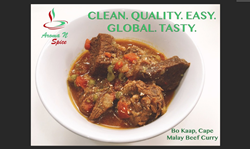 Now you can be the star at dinnertime with Aroma N Spice recipe starters and prepare healthy, tasty, easy, global dinners for your loved ones! First five sets of these amazing Recipe Starters are now available exclusively on KickStarter.
(PRWEB) November 15, 2016
Aroma N Spice is an upcoming line of premade, gluten-free, vegan, paleo-friendly spice mixes and over 250 delicious and easy recipes inspired by global cuisines. Aroma N Spice was launched by Marina Markovsky for the purpose of making cooking easier for busy parents and professionals so that they can continue to make healthy, natural, homemade meals for their families without sacrificing flavor or time.
Growing up in San Francisco, Marina developed a passion for cooking global dishes. As she traveled extensively throughout her twenties she had the opportunity to try cuisines from all over the world firsthand. Marina noticed that dishes from different countries often had similar cooking techniques, but the main thing that differentiated them was the spices and flavors that were used.
When Marina became a mother, she made it a priority to cook for health reasons for her family but was confronted with a challenge to balance her career and family responsibilities. She found that the fastest way to make delicious food at home was to convert regular recipes into "toss" recipes – combining common ingredients with her own premade spice blends. The only difference is that Marina's "toss" recipes are faster to prepare while still maintaining the same healthiness, quality, and deliciousness of the original dish. Marina was inspired to start Aroma N Spice after friends began asking for her spice blends after tasting her delicious food. Some of her most proud creations are Green Curry Powder, Rendang Beef Spice, Trinidad Curry, and Bo Kaap - Malay Curry Powder.
Marina's Aroma N Spice "toss" recipes are inspired by some of the most popular dishes from several different regions. They take just minutes to prepare by combining common ingredients with Aroma N Spice mixes. Many of them can be made with the popular Instant Pot pressure cooker or a similar machine to further save time. The recipes also feature clear and easy-to-follow, mobile-friendly instructions for people with all levels of cooking experience.
Aroma N Spice launched a Kickstarter crowdfunding campaign on November 3, 2016, with numerous perks and benefits for its first customers. The first 5 sets of 5 Aroma N Spice premade spice mixes and 250 recipes will be available for preorder on Kickstarter on November 3, 2016. For more information about Aroma N Spice or to pre-order, visit: https://www.kickstarter.com/projects/248523695/aroma-n-spice.
Contact
Aroma N Spice
info(at)aromanspice(dot)com
aromanspice.com