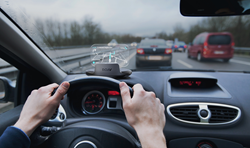 With Roav, we've made the smart driving experience, previously exclusive to high-end automotive brands, expandable and attainable for existing cars across America.
Seattle, Wash. (PRWEB) November 14, 2016
Anker, a mobile charging technology firm, launched today the centerpiece of its Roav Smart Driving System: Roav Dashtop, a voice-controlled computer built for drivers that sits on the car's dashboard and assists the driver by projecting important information on its HUD (head-up display). Roav Dashtop is available now for pre-order on GoRoav.com.
"Roav is not another HUD, but a complete Smart Driving System that begins with the Roav Dashtop computer," said Steven Yang, CEO of Anker. "With Roav, we've made the smart driving experience, previously exclusive to high-end automotive brands, expandable and attainable for existing cars across America."
Roav Dashtop is a standalone computer complete with 32GB of internal memory, a dual-core processor, and a HUD that projects information like speed, gas level and directions on its clear glass display. At the heart of Roav's innovation is its built-in 4G/Wi-Fi connectivity card, which allows Roav to connect to the internet independently.
"Roav Dashtop is constantly updated through 4G/LTE networks. This ensures that Roav will always have the latest traffic reports and use them to generate the most convenient route for the user," explained Yang. Conventional HUDs require a paired Bluetooth device to connect to the internet. This indirect connectivity limits functionalities and generates lag, which can result in incorrect directions or inconvenient delays for the driver.
Roav Dashtop is also equipped with a revolutionary voice-control driving assistant powered by Nuance ™. This technology allows Roav to filter ambient sounds to receive and process the driver's voice commands, providing the most accurate response.
"This voice-control technology not only makes the driving experience more convenient, but also safer. With a simple command, drivers can simply ask for the fastest way home or the best restaurant nearby, and let Roav do the rest. All without lifting their hands from the wheel," said Yang.
Roav Dashtop can read aloud any text messages received while driving. It limits text replies to autoreply messages which can only be configured before starting a ride.
Customers can choose between two versions of Roav Dashtop, 4G or Wi-Fi, with a pre-order price of $299 and $399, respectively. Although Roav is compatible with any 4G sim card, those who purchase the 4G version will receive three free months of unlimited 4G data with Verizon LTE and the option to continue their subscription afterwards for an additional $9.99/month. Customers who prefer only Wi-Fi can use their phones as hotspots for Roav while driving, or update Roav Dashtop at home and use it in offline mode.
Roav Dashtop features include:

Navigation
Live-traffic re-routing
Live-traffic alerts
Speed limit alerts
Music streaming
Calls
Messages and notifications
Trip statistics
Mobile companion app
Find my car
Yang also announced the launch of the Roav Store for apps in early 2017. This will open the door for developers to expand the possibilities of smart driving and cater to certain commercial needs through customized applications.
Roav Dashtop is the core of the Roav Smart Driving System, it is just phase one of the project. Phase two, launching in Summer of 2017, will introduce a series of dashcams with high-end models featuring ADAS (Advanced Driving Assistance System), a safety system that alerts the driver of possible dangers.
"These cameras with ADAS will feed Roav Dashtop and tell the driver if there are pedestrians too close to the car, if the car is invading the adjacent lane, or even alert the driver of potential collisions before they happen," said Yang. "This type of technology can prevent accidents and save lives. That's why we believe it should be available and attainable for all existing cars across America."
Smart driving systems have been present in cars from brands like Lincoln, Audi, and BMW since 2013. These systems provide navigation and traffic information, use HUD to project the car's driving information and directions on the windshield, as well as use smart sensors around the car to alert the driver of potential collisions.
The company plans to offer a second product version through offline retailers and top national department, electronic, and telecommunication stores in 2017. You can pre-order Roav Dashtop today at GoRoav.com.
About Anker
The brainchild of a group of friends working at Google, Anker was founded in 2011 in Mountain View, California, and has since grown into an industry leader in USB charging—offering a range of high quality chargers and accessories to help consumers get the most out of their mobile devices. In November 2016, the company introduced a new brand, Roav—the Smart Driving System—which is a collection of interconnected devices that allows drivers to modernize any vehicle with the latest in automotive technology.