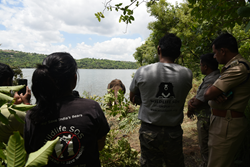 Seeing the military, forest department, and private agencies working together to save this injured elephant gives us hope that protecting the remaining elephant populations is possible as well.
Manchanabele Dam in Karnataka, India (PRWEB) November 12, 2016
Last month, residents in rural India found a wild elephant struggling in the backwaters near their village. The 35-year-old bull, nicknamed Sidda by locals, was trumpeting loudly in obvious agony. No injuries were apparent because Sidda had retreated into the waters of a nearby dam for relief, where he tried in vain to soothe his injuries and forage along the shore before finally collapsing.
Soon officials from government agencies like the Karnataka Forest Department (KFD) got involved. Conservation group Wildlife SOS (WSOS) were contacted for veterinarian care in the field. Journalists and media reps started calling. A wildlife filmmaker arrived. And the Indian public was all in—bringing fruit, vegetables, and rice balls to help Sidda keep his strength up.
Despite the vast outpouring of support, Sidda's situation was grave. With the help of a portable X-ray machine, WSOS veterinarians discovered Sidda had a broken leg and a compound fracture in a front forelimb, among myriad other injuries (http://timesofindia.indiatimes.com/city/bengaluru/siddas-chances-of-survival-not-good/articleshow/55041438.cms). The KFD deemed his condition too severe for transportation to proper medical facilities, so a 24-hour watch was instituted in the field, with veterinarians tending to him around the clock. But the massive pachyderm's prognosis was downgraded again when WSOS discovered that Sidda's resting position on the ground (for several weeks at this point) was likely affecting his circulation. A crane was brought in to lift the elephant, but the outlook remained grim.
"We're doing our best and praying for a miracle," WSOS Veterinarian and Research Director Arun A. Sha told the Times of India. Wildlife officials and veterinarians debated the next move. Filmmaker Shiv Kunal Verma decided to call a high-ranking friend in the Indian military asking for ideas, and—remarkably—the Madras Sappers Division of the Indian Army showed up within hours and set to work constructing a wood-and-metal support structure for Sidda (http://www.dailymail.co.uk/indiahome/indianews/article-3895012/Pray-Sidda-Army-sends-50-troops-help-gravely-injured-wild-elephant-fighting-life-river-bank-Karnataka-weeks.html). After laying on his side for weeks on end, Sidda the elephant is finally standing again, albeit gingerly. Now his circulation can improve and his many injuries can be more easily treated.
"In India, wildlife issues are taken very seriously," says Wildlife SOS Executive Director Nikki Sharp said in a press release. "We've reached a time in history where elephants have been decimated and could face extinction if drastic measure aren't taken to save them. Seeing the military, forest department, and private agencies working together to save just one gives us hope that protecting the remaining elephant populations is possible as well."
As for Sidda himself, his predicament remains deeply serious. But no one is giving up on him just yet.
"There is hope," Arun told the Times of India (http://timesofindia.indiatimes.com/city/bengaluru/Sidda-needs-a-healing-miracle-and-there-are-prayers-aplenty/articleshow/55299879.cms). "Sidda is a survivor."
Note: Regular updates on Sidda elephant are available on the Wildlife SOS website wildlifesos.org and facebook.com/wildlifesosindia.
For more information, please contact Wildlife SOS USA Communication and Development Specialist John Pecorelli by telephone at 801 / 750-0301 or by email at john(at)wildlifesos(dot)org.
About Wildlife SOS: Wildlife SOS is one of the largest rescue and conservation charities in South Asia, operating 10 wildlife rehabilitation facilities across India, including the world's largest sloth bear rescue center and the recently established Elephant Conservation and Care Center, which is the first in India and currently houses 22 rescued elephants. Wildlife SOS runs a tribal rehabilitation project that aims to create an alternative livelihood for poachers and other indigenous communities that once depended on wildlife for a livelihood. We also run a leopard rescue center, a wildlife hotline in New Delhi and Agra, and Forest Watch, which is an anti-poaching wildlife crime enforcement unit. More information about the organization can be found at http://www.wildlifesos.org. The U.S. branch of Wildlife SOS is based in Salt Lake City, Utah, and received 501(c)3 charity status in 2005.