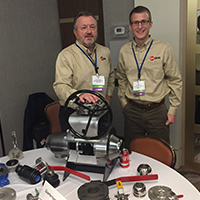 We found a genuine interest in learning about our valves from everyone who stopped by our booth
Houston, Texas (PRWEB) November 17, 2016
ValvTechnologies, Inc., manufacturer of zero-leakage severe service isolation valve solutions, is pleased to announce that Nuclear Industry Director, Bill Henwood and Product Engineer, Josh Nelson recently represented ValvTechnologies at the Valve Manufacturer's Association (VMA) Valve Petting Zoo which provides a hands-on experience with products covered during the VMA's highly-rated Valve Basics Series.
The Valve Basics course was created specifically for newcomers to the industry so it is ideally suited for recent graduates and engineers in the early stages of their careers. Attending the Valve Petting Zoo were:

Professionals employed at plants and facilities that use valves, actuators and controls
More experienced professionals with knowledge of one specific product type but in need of an overview of the entire spectrum of valves, actuators and controls
New employees at valve, actuator and control companies
Personnel from EPC or AEC firms who are involved with specifying valves
Distributors and manufacturer's reps who sell these products
Companies that provide supplies and services to the industry
The Valve Basics course has also been well-received by upper-level mechanical engineering students who have attended previous seminars. Their participation is made possible by scholarships from the VMA's educational foundation. ValvTechnologies was able to take advantage of this time and introduce those new to the valve industry to ValvTechnologies' superior products and services.
ValvTechnologies also had the opportunity to exhibit at the VMA Valve Basics Training Event. The attendees at this event range from end users of valves, channel partners/suppliers, valve and actuator manufacturers plus students/interns that will be involved in the valve industry in the future.
ValvTechnologies was represented by Service Engineer, Andre Nichols and North American Service Manager, Donald Polasek. The event was well received by all the newcomers to the valve industry. "We found a genuine interest in learning about our valves from everyone who stopped by our booth," Polasek said. "Various topics about valve function and design that seasoned valve people take for granted was interesting to the attendees."
Exhibiting at these types of events allows ValvTechnologies a way to invest in the future of the valve industry where the aging workforce and gaps that will develop has been a topic of discussion for the last 10 years. ValvTechnologies is working to help do something about it.
About ValvTechnologies
Founded in 1987 and headquartered in Houston, Texas, ValvTechnologies is the leading manufacturer of zero-leakage, severe service isolation valve solutions. Employing more than 500 people worldwide, our offices are located in the United Kingdom, Mainland Europe, China, Middle East, India, Australia and South America. In addition, ValvTechnologies partners with stocking distributors and independent representatives to service customers around the world. To find out more about the products and services offered or to locate a representative, visit our website at http://www.valv.com.
ValvTechnologies has a world-wide reputation for superior quality and dependability with customers in every industry. From standard applications to the most sophisticated, ValvTechnologies continues to provide solutions to manage severe service processes around the world. What differentiates ValvTechnologies is their focus on helping clients meet challenges safely and efficiently. Whether those challenges are daily process problems that have to be met one valve at a time or system-wide concerns demanding total flow control solutions, ValvTechnologies has the solution.
By equipping the best people with the latest in technological design and manufacturing processes, ValvTechnologies has created an atmosphere where quality and dependability are built into their products from start to finish. By focusing on this People-Process-Performance principle, ValvTechnologies has become an integral part of their customers' asset management strategy and a key contributor to everyday process efficiency.
ValvTechnologies uses international quality standards to assure that they conform to specified requirements throughout their total process. These requirements include design, development, order processing, production, purchasing, quality control, installation and service. Our own processes are based on the requirements of ISO 9001, API Q1 and PED.
For more information visit http://www.valv.com.