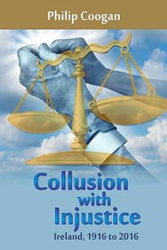 "A devastating and yet beautiful read— I highly recommend 'Collusion with Injustice.'" Charles Asher, Phi Beta Kappa Reviews
(PRWEB) November 16, 2016
Violence is nothing new in Northern Ireland. Author Philip Coogan's story begins with his grandfather joining the British Army in 1877. It then spans the next 100 years of local history, family survival, and bloodshed, leading up to the 1970s.
The stunning memoir "Collusion with Injustice" details the moving true account of one family's experiences with the Northern Ireland civil war of the 1970s. The author's life changed forever in December 1971, when a bomb destroyed his thriving garage business in Donaghadee, Northern Ireland. Coogan's troubles only intensified and he survived repeated assassination attempts. He was also prevented by planning authorities to rebuild his garage: "I received no compensation for my injuries or large building site. My health deteriorated and I suffered severe post-traumatic shock disorder and other illnesses."
He emerged a broken man, and to this day wonders what his life could have been like.
Watch the video at: https://youtu.be/Aafyfy_uR_c
About the Author: Philip Coogan now lives in Ireland - "I have never been able to hold a job from that night of 1971 when the bomb went off."
"'Collusion with Injustice' gives audiences the human side of the (Irish) conflict, allowing non-Irish readers to more deeply empathize and understand the lives of those who suffered in this brutal epoch. The writing is evocative and intimate, and Mr. Coogan is a master storyteller, utilizing pacing and dramatic action to hook readers and, once drawn into the narrative, keep them emotionally invested in the horror and the tragedies that he himself has experienced. A devastating and yet beautiful read— I highly recommend Collusion with Injustice." Charles Asher, Phi Beta Kappa Reviews
COLLUSION WITH INJUSTICE: IRELAND, 1916 TO 2016 (Kindle ISBN: 978-1-68181-858-0, ePub ISBN: 978-1-68181-857-3) is available for $9.99 at http://epubco.com/shop/products/collusion-with-injusticeireland-1916-to-2016-by-philip-coogan/, at Amazon.com, BarnesandNoble.com, and in multi-formats for other e-Readers through numerous vendors online.
The soft cover version (ISBN: 978-1-68181-624-1) is now available for $20 and can be ordered through the publisher's website: http://sbprabooks.com/PhilipCoogan or at Amazon and Barnes & Noble and other online booksellers
WHOLESALERS: This book is distributed by Ingram Books and other wholesale distributors. Contact your representative with the ISBN for purchase. Wholesale purchase for retailers, universities, libraries, and other organizations is also available through the publisher; please email bookorder(at)sbpra(dot)net.