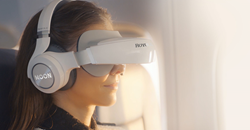 Fremont, CA (PRWEB) November 14, 2016
Royole today announced that it has been named a CES 2017 Innovation Awards Honoree in both the Wireless Handset Accessory and Gaming categories for its Moon, a new 3D virtual mobile theater for movies, gaming, and more. Products entered in the prestigious program are judged by a preeminent panel of independent industrial designers, independent engineers and members of the trade media to honor outstanding design and engineering in cutting edge consumer electronics products.
Royole Moon combines two Full HD 1080p AMOLED displays at over 3000 ppi resolution that simulate a giant 800" curved screen with stereoscopic 3D, and active noise cancelling headphones, to deliver cinematic movie-watching and immersive-gaming experiences anywhere the wearer desires. Moon's screen is also scalable, allowing full control over the screen size for a personalized viewing experience. Furthermore, it features Royole's patented foldable design, ultra-soft headphone covers, and a premium breathable eye cover to ensure comfort even after long periods of continuous use. It also includes 32GB (128GB upgrade available) of internal storage and battery life for up to 5 hours of continuous video playback. Advanced optics allow most eyeglass wearers to enjoy Moon without their corrective lenses.
Moon's new operating system, Moon OS, utilizes Royole's patented flexible electronics technologies, allowing full control while eliminating the need for an external controller. It also supports third party development while allowing the device to be easily connected with, and controlled by, smartphones. Moon is capable of sourcing movies from smartphones, set-top boxes, gaming consoles, and PCs, as well as accessing content from nearly any internet-based service, such as Netflix, Amazon Video, Hulu, YouTube, and more. It also can enhance gaming experiences on popular platforms, including PlayStation, Wii, Xbox, Apple, Google, and others. With 2D/3D format auto-detection, the user experiences content the way it was designed to be enjoyed. Moon was created using the highest quality materials and comes in three stunning colors: black, white, and gold.
"We are thrilled to be recognized as a CES 2017 Innovation Awards Honoree in not one, but two categories," said Dr. Bill Liu, Founder and CEO of Royole. "Moon has been years in the making and features a great deal of our unique proprietary technologies, including over 100 patents and know-hows. Needless to say, it is very gratifying to be recognized by CTA for all of our team's hard work."
The prestigious CES Innovation Awards are sponsored by the Consumer Technology Association (CTATM), the producer of CES 2017, the global gathering place for all who thrive on the business of consumer technologies, and have been recognizing achievements in product design and engineering since 1976.
The Royole Moon will be displayed at CES 2017, which runs from January 5 – 8 in Las Vegas, Nevada, in the LVCC South Hall in booth #26002.
Entries are evaluated on their engineering, aesthetic and design qualities, intended use/function and user value, how the design and innovation of the product directly compares to other products in the marketplace and unique/novel features present. Products chosen as CES Innovation Honorees reflect innovative design and engineering in some of the most cutting edge tech products and services coming to market.
CES 2017 Innovation Honoree products are featured on http://www.ces.tech/Events-Experiences/Innovation-Awards-Program/Honorees.aspx, which lists product categories, as well as each product name, manufacturer information, description, photo and URL.
The Royole Moon 3D virtual mobile theater is currently available in limited distribution online at http://www.royole.com and Amazon with an MSRP of $799. Royole is currently expanding their resources and distribution in the US and Europe.
Royole received two additional CES Innovation Honoree Awards for its Royole Smart Bag in the Fitness, Sports and Biotech Category and another groundbreaking device to be announced at CES 2017.
About Royole Corporation
Royole was founded by Stanford engineering graduates in 2012 with the mission to improve the way people interact with and perceive their world. The company creates and manufactures advanced flexible displays, flexible sensors, and smart devices. It also provides IP licenses, services, and solutions for a variety of industries associated with displays and flexible electronics applications. In 2014, it introduced the world's thinnest full-color AMOLED flexible display with a thickness of 0.01mm (0.00039 inches, approximately 1/5 the thickness of a human hair) and a bending radius of 1mm. In 2015, it began mass production of proprietary flexible electronic devices, and introduced the world's first foldable virtual mobile theater. In 2016, it introduced the world's first curved car dashboard based on flexible electronics at CES in Las Vegas.
Royole has received many global awards for its technology innovations and fast growth, including the Best of CES 2016 by Thomson Reuters, "5 Under 5" 2015 Most Innovative Startups in China by Scientific American, 2016 Annual Tech & Innovation Award by San Francisco Business Times, and 2015 Top 10 Most Innovative Entrepreneurs in the US and China by Forbes. Royole is backed by leading venture capitalists, including IDG Capital Partners, CITIC Capital, Knights Investment Group, and Shenzhen Capital Group. A verified 'unicorn' company, it has offices in Fremont, CA, Hong Kong, and Shenzhen, China. For more information, please visit: http://www.royole.com. 
###
 
All products/services and trademarks mentioned in this release are the properties of their respective companies.
©2016 Royole Corp. All rights reserved.