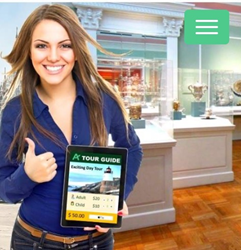 "Tablets and Apps not only help in improving reviews and ratings, they also help in generating new revenue." Said Mark Dube of Boston Super Tours.
Barrington, RI (PRWEB) November 16, 2016
Action Data Systems announced a "No New Cost" program to take care of museum's old and obsolete audio tour guide players with new tablets and ​​mobile apps ​on the app stores. The program is designed to add "No New Costs" to the museums.
Many museums own audio tour guide players to allow visitors to take self guided tours. These players are expensive, difficult to repair and maintain. Also, the newer technology has proven beyond doubt that these players are now obsolete. The new trend is to use tablets and allow visitors to download the apps on their own devices.
Action Data Systems of Barrington, RI has been successfully working with many museums and historic houses to implement this program.​ As a part of this program:
Action ports museum's existing ​audio ​tour content ​to Apple & Android apps that they create for the museum.
Action releases the app​s​ to App Store​s​ for visitors to download on their own mobiles.
​Action loads the apps on 7" tablets with protective cases, lanyards and parental locks.​
Action offers the ​apps & ​tablets ​​to visitors​ in lieu of audio-players.
Action takes full responsibility ​to manage fleet- upgrade​, update, damage​, replace.​
Action's co-owner, Ushma Shah said that "Tablets and apps are much superior replacements because they offer: ​​multimedia -- photos, ​audio, ​videos, maps ​ & text​; ​​Multiple levels of content -- "drill down" to learn more; ​​Flexibility in tour -- visitors follow a path or jump to specific area; ​​Multiple languages​, usage stats & other features to attract wider audience; And ​generate new revenue - mobile ticketing, gift store, donations​ & sponsors."
About Action Data Systems : Action Data Systems is headquartered in Barrington, Rhode Island with a regional office in Mumbai India. Action Data Systems helps museums, attractions, religious places, and bus tour operators to create Apple and Android tour guide apps and rental tablets to increase tourist engagement, improve ratings & reviews and generate new revenue from mobile e-commerce.