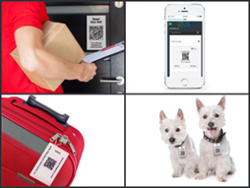 Download the free app, create your own account and you're set to go. It's that simple.
Irvine, California (PRWEB) November 18, 2016
NousLogic Inc., an Irvine, California startup, introduces the ReachMe LiveTag & ActionTag services that allow the user to reach someone without surrendering his or her personal contact information. The user can use LiveTag for lost & found notification with GPS, as a virtual doorbell allowing people to reach the user wherever he or she is, and to display medical info in case of emergency. The ActionTag allows the user to automate a series of IOT or web services with a scan of the tag, such as one-click online shopping or to open a SmartHome door.
"Download the free app, create your own account and you're set to go. It's that simple," said Hoang Nhu, CEO of NousLogic, Inc. The simple and easy to use ReachMe service allows a user to generate unique QR codes and use them on documents, labels and stickers for personal belongings, children's school bags, pet collars and whatever else the user needs them for. Via any QR code reader on smartphone, people can contact the user instantly once the code has been scanned, and his or her private contact information remains secure.
People with medical histories that often require swift attention can use ReachMe LiveTag to store critical medical information and to list whom to reach in an emergency. This information will be immediately displayed when the LiveTag is scanned in order to assist doctors and medical personnel – an invaluable real-time service.
A valuable example of ReachMe ActionTag implementation is the replacement of single purpose IOT buttons such as Amazon DASH and Logitech POP. It offers the following benefits:

No battery to replace, zero maintenance
Practically no cost to print as many ActionTag as needed.
Programmable versus single purpose IOT button (such as Amazon DASH)
NousLogic is planning to implement new features for the ReachMe platform and has just launched its Kickstarter project. NousLogic's product roadmap includes several innovative IOT devices such as Garage Watchman, DoSomething sensor and an IOT Pill Bottle that will also work with the ReachMe ActionTag.
NousLogic is participating at Airbnb Open 2016 as a sponsor and will be distributing 10,000 LiveTags to Airbnb hosts to use as smart virtual doorbells. The company has signed up several health clinics and hospitals as customers. The idea of converting all physical tags into dynamic tags could have the potential for wide-range applications.
Pricing and Availability
"NousLogic ReachMe" App is available for free download from the Apple App Store and Google Play Store. The ReachMe LiveTag and ActionTag services start at $2/year (first year free). For more information please visit http://www.ReachMe.me and http://www.nouslogic.com
NousLogic has started a Kickstarter crowdfunding project for Reachme.me service at significant discount, including free lifetime service fee. Please visit https://www.kickstarter.com/projects/381135086/nouslogic-reachme-livetag-dynamic-tags-for-your-sm
About NousLogic
NousLogic, a startup based in Irvine, California, provides systems and devices to manage access to your home and to monitor real-time events inside and around your home. In tandem with NousLogic's ReachMe service, NousLogic aims is to be your complete home management and security partner.