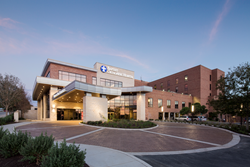 SAN ANTONIO, Texas (PRWEB) November 14, 2016
Robins & Morton celebrated the grand opening of the new Baptist Orthopedic Hospital at North Central Baptist Hospital in San Antonio, Texas, on Oct. 27.
Nashville-based Earl Swensson Associates (ESa) designed the facility, and Robins & Morton managed the construction of both the 75,000-square-foot addition and 15,000-square-foot renovation. The renovation included a management suite on the first floor, two new elevators and two operating rooms. The addition work included 30 medical/surgical patient rooms, six operating rooms, fifteen PACU beds and 18 staging rooms. Completed within 16 months of the groundbreaking, the project was constructed while the hospital maintained full operations.
# # #
About Robins & Morton
Founded in 1946, Robins & Morton is a privately held construction firm that consistently ranks among the 100 largest U.S. contractors in Engineering News-Record Magazine. The company has also been named one of the best mid-sized companies to work for in America because of its worker-friendly and family-friendly practices. Robins & Morton is based in Birmingham, Alabama, with offices in Dallas, Texas; Huntsville, Alabama; Orlando and Miami Florida; Nashville, Tennessee; Charlotte, North Carolina. For more information, visit http://www.robinsmorton.com.