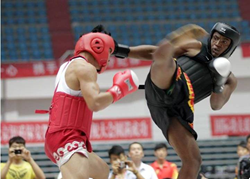 UFC fighter Cung Le gives credit to the US Open event for kicking off his fighting career.
Atlanta, GA (PRWEB) November 15, 2016
The 29th US Open Challenge with Shaolin KungFu and Fighting Shows will start its main show at 6:30 PM.
The day event will be running all day on December 3rd from 10:00 AM through 4:00 PM and is suitable for the entire family to enjoy. All events will be held at the Roswell Community Center at 11516 Woodstock Road, GA.
With such a rare KungFu martial arts event coming to Atlanta, the show and fights will exhibit unique and incredible skills that not only entertain but give the greater Atlanta audience an eye opening experience in martial arts dynamics.
KungFu SanDa teams from all over the country will embark on this fighting journey to test their skills, endurance and spirit in hopes of being crowned the next US Open Challenge Champion.
Past Champions, such as Patrick Barry, Cung Le, Melvin Guillard and KJ Noon, have gone on to become UFC veteran fighters and give credit to the US Open event for kicking off their fighting career.
Internationally well known UFC fighter Cung Le explained that the US Open made him realize his potential as a Champion fighter. He also found his coach and mentor at the US Open. "I met Coach Shawn (Liu) at his tournament, the US Open. This is where I learned and found out about SanDa; back then we called it SanShou." The rest is history.
The day events will showcase a Lion dance, light contacts, continuous fights with Tai Chi, KungFu form competitions, Shaolin weaponry, and Tai Chi demonstrations.
This event is sponsored and operated by Shaolin Institute and sanctioned by KSF (KungFu SanDa Federation), a division of Shaolin World Federation (Shaolin Chan Foundation). Founded in 1999, Shaolin Institute has trained over 100 martial arts champions, including five World SanDa Champions and four UFC fighters.
The Shaolin Chan Foundation is a 501(c)(3) non-profit organization devoted to teach ancient wisdom of Chan (Zen) to broad audiences and empower people with physical and spiritual Zen practices.
For more US Open information: ksfworld.org (770)286-9808
Shaolin Institute: shaolin-world.net
SCF: shaolinchanfoundation.org