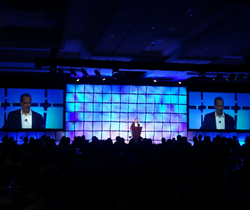 It is access to information that facilitates change and allows us to expand our collaborative efforts to make lasting, sustainable improvements in the care of our warriors.
San Diego, CA (PRWEB) November 18, 2016
Hundreds gathered at the Manchester Grand Hyatt November 1st and 2nd for the Navy SEAL Foundation's first annual Collective Impact Forum. This two-day event brought together leading experts on topics such as Chronic Traumatic Encephalopathy (CTE), Traumatic Brain Injury (TBI), Post-Traumatic Stress (PTS), suicide, and other complex topics affecting military personnel and their families.
This event, presented by the Navy SEAL Foundation in support of Naval Special Warfare warriors and their families, brought military members and services providers together to challenge and break down the barriers which persist for those seeking access to effective behavioral health services.
New York Times bestselling author of "War" and "Tribe", Sebastian Junger, opened the event and established a unifying tone with his lecture on homecoming and belonging and the importance of a shared sense of community.
World-renowned Dr. Bennet I. Omalu, presented on his groundbreaking research in the field of CTE. His thought-provoking presentation informed attendees about how CTE presents clinically after a prolonged latent period as a composite syndrome of mood disorders, neuropsychiatric and cognitive impairment.
Other presenters during this first-of-its-kind event came from all over the country to share their knowledge and assist in creating collective impact in the provision of mental health services to military personnel while enhancing education and collaboration between providers.
Attendees witnessed Michael Singer, CEO of BrainScope, introduce the first FDA cleared hand-held medical device for the assessment of the full spectrum of traumatic brain injury on the battlefield. Mr. Singer shared how a multi-modal panel is essential for TBI/concussion assessment and how the device will aid physicians in their clinical diagnosis of patients with head injuries.
Other topics included strategies for harnessing maximum brain health, guidelines on evidence-based pharmacology and psychotherapy for PTSD, and overcoming the obstacles to effective behavioral health care for military personnel and their families.
"It is access to information that facilitates change and allows us to expand our collaborative efforts to make lasting, sustainable improvements in the care of our warriors. This type of access re-energizes us as we continue the work that we are doing for those who serve on the front lines," said Robin King, CEO of the Navy SEAL Foundation.
The Navy SEAL Foundation is honored to support the warriors and families of Naval Special Warfare and is so pleased to see the progress being made in areas of veteran care and brain health. Working together we can create positive outcomes for so many who have dedicated their lives to serving our great nation.
ABOUT NAVY SEAL FOUNDATION
The Navy SEAL Foundation is focused on the preservation of the Naval Special Warfare (NSW) force and its families. It provides immediate and ongoing support and assistance to the NSW community and is a source of empowerment and comfort for the families of the fallen. The Foundation offers a comprehensive set of programs specifically designed to improve health and welfare, build and enhance resiliency, empower and educate families and provide critical support during times of illness, injury or loss.
The Navy SEAL Foundation is a 501(c)(3), tax exempt, national non-profit charitable foundation which has maintained a 4-star rating by Charity Navigator since November 2011 for sound fiscal management and commitment to accountability and transparency and is also certified by the Independent Charities of America as a "Best in America" charity.