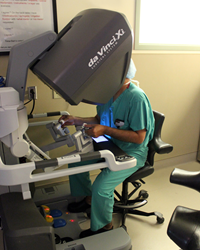 The da Vinci® Xi™ enables our patients to have a faster recovery, less blood loss, and less pain after surgery.
Wesley Chapel, FL (PRWEB) November 14, 2016
Florida Hospital Wesley Chapel recently upgraded their robotic surgery program with Intuitive Surgical's new da Vinci® Xi™ System, a four-armed robot that offers greater range of motion and reach. The hospital has offered minimally invasive robotic surgery with the da Vinci® Si™ System since 2013.
Florida Hospital Wesley Chapel is one of only five hospitals in Tampa Bay and the only one in Pasco County to have a da Vinci® Xi™ System. Florida Hospital Wesley Chapel will be the only hospital in the county offering single site robotic surgeries where the only incision is made through the belly button for hysterectomies, gallbladder removal, etc..
Dr. Jennifer Roller, gynecology and Dr. Vijay Ferris, general surgery, Chief of Surgery successfully completed the first surgeries on the new system, a hysterectomy and colon resection. Dr. Olefunke Abiose performed the first single site hysterectomy.
In this latest round of advancements, surgeons have gained greater functionality in procedures requiring access to multiple areas of the pelvis, abdomen or chest. It can be used across a wide spectrum of minimally invasive surgical procedures, including colorectal, urology, gynecology, thoracic and general surgery.
"As a surgeon, I am particularly impressed by the improvements in this generation of da Vinci®, which offers greater vision, dexterity and precision," Ferris says. "This technology truly is a natural extension of a surgeon's eyes and hands."
"Florida Hospital Wesley Chapel is committed to providing the highest quality, most advanced care to our community," said Florida Hospital Wesley Chapel president and CEO Denyse Bales-Chubb. "The da Vinci® Xi™ enables our patients to have a faster recovery, less blood loss, and less pain after surgery."
How does the new da Vinci® Xi™ compare to the earlier da Vinci® Si™ system?

New design facilitates anatomical access from virtually any position.
A simpler, more compact endoscope provides improved visual definition and clarity.
The camera/endoscope attaches to any of the 4 arms, providing flexibility for visualizing the surgical site.
Smaller, thinner arms with more flexible joints offer greater range of motion.
Longer instrument shafts give surgeons greater operative reach.
Additionally, the da Vinci® Xi™ is compatible with the Intuitive Firefly Fluorescence Imaging Vision System. Firefly's real-time endoscopic, near-infrared fluorescence imaging, enables surgeons to use this advanced technology to better view anatomy, blood flow, tumor identification and have more successful outcomes. The system is also paired with a fully integrated operating table from Trumpf Medical that allows the medical team to adjust the patient during surgery without removing any instrumentation.
About Florida Hospital Wesley Chapel
From state- of- the- art equipment to the most intricate building details, Florida Hospital Wesley Chapel was designed from the ground up to maximize healing, patient care and wellness. The hospital currently has 103 all-private patient rooms and is in the midst of a major expansion which will bring this up to 145 patient rooms in early 2017. Built from the ground-up, this full-service community hospital features expert staff, specialty design and state-of-the art technology built for better patient care.
Since opening in October of 2012, Florida Hospital Wesley Chapel has been recognized as a leader in patient satisfaction, quality and safety. The hospital offers a full range of inpatient and outpatient health services, including surgery, imaging and rehabilitation services and emergency services for adults and children. The hospital features a 50,000 sq. ft. community Health & Wellness Center and a wide range of community offerings such as health and wellness presentations, screenings and events.
The current expansion, which began in August 2015, involves 111, 993 square feet of new construction and 10,834 square feet of renovation. In the expansion, Florida Hospital Wesley Chapel will add additional emergency rooms, inpatient rooms, surgical suites and related surgical services, Heart Catheterization Lab, and recovery/observation rooms as well as shelled space for future growth. Part of the Adventist Health System, Florida Hospital is a leading, not-for-profit health network comprised of 26 hospitals throughout the state. For more information, please visit http://www.FHWesleyChapel.org.