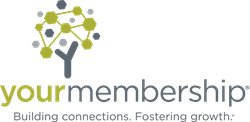 Forward-thinking technology ensures a faster web and mobile experience, and that data is secure and available when customers need it. These advancements allow our customers to deliver better service to their members.
St. Petersburg, Fla. (PRWEB) November 15, 2016
YourMembership (YM), a leading cloud-based software provider for associations and member-based organizations worldwide, today announced details of significant expansion of its technology. The latest advancements boost end-to-end performance, reliability and reporting across the company's integrated platform of products to improve member engagement and revenue growth for its customers. This technology expansion is driven by partnerships with some of the industry's most trusted technology providers, including Google, Microsoft and New Relic.
"Nowadays, associations, non-profits and constituent-based organizations worldwide face a number of challenges as they strive to grow, and technology plays an important role in their success. The intricacies and demands of today's digital generation require a highly scalable, secure and fast online experience," said JP Guilbault, CEO of YourMembership. "YM is continuously improving its integrated platform with forward-thinking technology to ensure a faster web and mobile experience, and to ensure data is secure and available when customers need it. These advancements have a profound impact across our entire platform and allow our customers to deliver even better service to their members."

Google for Easier and Faster Content Delivery: YourMembership has invested in boosting user performance by partnering with Google and its Google Cloud CDN (Content Delivery Network) for easier and faster content delivery. By applying Google Cloud Services to the association management platform, it simplifies and speeds up the delivery of relevant images, articles and video to members across an association's marketing website and online social community.
Microsoft for Expanded Disaster Recovery Solution: YourMembership has also partnered with Microsoft to bolster YM's disaster recovery solution. Using Microsoft's AZURE Cloud Services, association member databases are better protected, and it paves the way for 24/7/365 availability.
New Relic for Enhanced Monitoring and Insights: To ensure the health of YourMembership's technology, YM has partnered with New Relic for enhanced end-to-end performance monitoring and insights of individual association websites.
"Technology is a constant focus at YM," said Dan Gaertner, Chief Product Officer of YourMembership. "Our goal is to ensure we are partnering with the right forward-thinking organizations to provide the best service and performance to our customers. Our latest technology enhancements will increase performance and allow more flexibility with our APIs, improve email deliverability, increase security, and provide a healthier experience for all users engaging on our platform."
For more information about YM, its portfolio of association and organization management products, visit YourMembership.com or call +1 727.827.0046.
About YourMembership
YourMembership, established in 1998, empowers associations, organizations, nonprofits and other companies worldwide to deliver more value to their users, drive non-dues revenue through innovative career centers and buyer's guides, increase their relevance using ground-breaking engagement tools, and enhance overall operational efficiencies. YourMembership's cloud-based association management solution enables organizations to effectively brand themselves, engage their customer bases, and streamline their administrative processes. As the world's largest provider of membership and company management software, YourMembership provides comprehensive membership solutions to more than 5,000 customers in 32 countries. For more information, visit YourMembership.com. To learn more now, call +1 727.827.0046. To get the latest industry updates, read YM Blog. Get social with YM on Facebook, Twitter and LinkedIn.