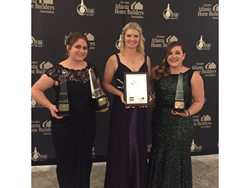 Atlanta, GA (PRWEB) November 16, 2016
mRELEVANCE, LLC is proud to announce it won four Gold and two Silver OBIEs at the Greater Atlanta Home Builders Association's 36th annual OBIE Awards. Presented by the Atlanta Sales and Marketing Council, the OBIE Awards are the premier awards given in the Atlanta new home construction industry.
"We're honored to be recognized for the excellent work that our team does, and we're thankful for our many clients that trust us to be a part of their business," said Carol Morgan, managing partner of mRELEVANCE. "We pride ourselves on creating marketing strategies that provide ROI for our clients, but we have to admit we like a little bling to go along with that ROI!"
mRELEVANCE's 2016 OBIE wins include:
Gold OBIEs
Best Website –Corporate-Associate
Marketing RELEVANCE was honored to receive the Gold OBIE Award for constructing a new and innovative system that can be used for any company or entity that hosts contests. Awards Central, created for the Greater Atlanta Home Builder's Association managed this year's OBIE Awards. This online system increases entries, reduces time management of submissions and makes each award program more profitable. With more than 120 awards given and more than 400 entries placed for the OBIE Awards, this website allowed for a more organized and visual approach for judging.
Best Social Media Campaign – Associate
The "Summer is Served" campaign was created to showcase the fun and interactive side of mRELEVANCE and to increase social media engagement. The creative content provided clients, potential clients, friends and influencers the opportunity to become involved in the contest and get to know each mRELEVANCE team member. Each post reached between 200 and 1,000 people and provided new likes, comments, shares and views, the statistics prove that this innovative concept was successful.
Best Marketing Campaign/Promotion – Associate (Budget under $10,000)
This marketing campaign was designed to promote the newly launched AtlantaRealEstateForum.com, which now includes every metro Atlanta home listing available on FMLS. Consisting of a catchy rhyme and the eye-catching headline of "Oh, The Homes You'll Find," the campaign encouraged potential home buyers to begin their new home search on the site. Not only did the campaign increase overall Facebook traffic significantly, but traffic has remained steadily higher and increases in reach, impressions and engagement have been shown since the launch.
Best Social Media Campaign – Builder/Developer
(P)interact with Traton Homes was a fun Pinterest contest celebrating the opening of two new decorated model homes. The contest featured prizes such as $50 and $250 gift cards for random winners chosen from the many entries. The successful campaign helped Traton Homes gain new Pinterest followers and Facebook reach increased by 100 times. Additionally, traffic to the Traton Homes blog increased during the campaign; twenty-one percent of this traffic was from Pinterest and eighty-one percent of the sessions were first time blog visitors!
Silver OBIEs
Best Billboard
mRELEVANCE's impressive billboard for Harbor Club was created to be an eye-catching, informative piece to let buyers know of current and future real estate options within the established community. The billboard was conveniently located on a major roadway and portrayed clean imagery and contrasting colors to let customers know that the real estate office was open daily for services.
Best Website – Builder/Developer
The Providence Group's new responsive website design showcases 15-plus luxury new home communities throughout Atlanta. The site offers easy navigation to view communities, home designs, available homes, and current incentives and offers an abundance of photos, videos, 3D renderings and interactive site plans. Each page of the website has multiple calls to action, online forms and live chat to encourage visitors to register online and utilize the builder's Online Advisor Services. It provides an ideal user-friendly experience on any device.
The Greater Atlanta Home Builders Association's OBIE Awards began in 1980 and have grown throughout the years to include more than 100 building, remodeling, marketing and personal achievement categories. The OBIE Awards are named after the obelisk shape of the actual award given. To see all of this year's OBIE award winners, visit http://www.AtlantaRealEstateForum.com/OBIEs.
About Marketing RELEVANCE:
mRELEVANCE, LLC creates relevant marketing and communications that reach audiences with focused and strategic messages. Through technology and creative content, messages are delivered to target markets to encourage customer action and interaction creating ROI for clients.
With offices in Atlanta and Chicago, mRELEVANCE can connect your company with buyers and build relevant relationships nationwide. For more information, visit http://www.MarketingRELEVANCE.com, Like us on Facebook at http://www.Facebook.com/mRELEVANCE, Follow us on Twitter at @mRELEVANCE or call 770-383-3360 or 847-259-7312.