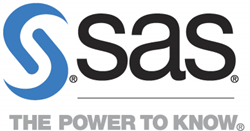 Cary, NC (PRWEB) November 15, 2016
A small sphere rolls around a classroom, cycling through glowing colors, before crossing a finish line. Students cheer, because they made it happen using their own computer programming skills. These kids have been using the new, no-cost CodeSnaps app, from the makers of SAS® Curriculum Pathways®. CodeSnaps teaches coding basics by enticing students to actively work together, hands-on, to control Sphero robots.
Programming is one of today's most in-demand job skills. But budget-strapped schools and districts struggle to implement relevant coursework. CodeSnaps can be used in any learning environment, including traditional and blended classrooms, 1-to-1 or at home. The collaborative coding activity requires only one Sphero robot and one tablet.
How does CodeSnaps work?
A Sphero is an app-enabled robotic ball that students control with an iPad®. Students prepare programs together using printed paper blocks. The blocks represent pieces of code, which students "snap" together in a certain order to create programs to control the Sphero. They then scan the assembled blocks using the app and run the program, which the Sphero executes.
For example, a teacher might set up a course on the floor that the Sphero must navigate to successfully complete the activity. The commands might be:

Move forward two meters.
Set Sphero's color to blue.
Turn left.
Move forward one meter.
Set Sphero's color to rainbow.
Spin Sphero five times.
"These lessons don't simply teach the basic foundations of coding. They are high-energy activities that get students on their feet and working in teams," said Scott McQuiggan, Director of SAS Curriculum Pathways. "Students experience the collaboration and creativity that are integral to computer programming careers."
With a single Sphero and tablet, a teacher can conduct an entire lesson, allowing teams of students to take turns having the robot execute their code.
"Sphero is a blank learning canvas that empowers educators and students alike to get creative with code," said David Millage, General Manager of Education at Sphero. "We are inspired by the experience CodeSnaps has built and excited to work together to promote 21st century skills through coding and robotics."
"We've conducted these activities in classrooms, at corporate events and as team-building exercises," said McQuiggan. "They never fail to engage and excite the participants."
Get started with CodeSnaps
CodeSnaps is available for iPad through the App Store. Interested users can also download the app from the CodeSnaps website, where they can view tutorials and print code blocks.
Free apps for teaching and learning fundamentals
CodeSnaps is one of more than 1,600 free tools, resources and apps from SAS Curriculum Pathways covering English language arts, mathematics, science, social studies and Spanish. Used by more than 2 million teachers and students in traditional, virtual and home schools, SAS Curriculum Pathways increases student learning and teacher effectiveness by targeting higher-order thinking skills. Mapping resources to both individual state and Common Core standards helps educators across the country in their planning.
Other mobile learning apps from SAS Curriculum Pathways include SAS Flash Cards, SAS Gloss, SAS Data Notebook, SAS Read Aloud, SAS Reading Records, SAS Writing Navigator, Algebra 1, SAS Math Stretch, and the SAS Spanish Video Library for Apple TV.
About SAS
SAS is the leader in analytics. Through innovative analytics, business intelligence and data management software and services, SAS helps customers at more than 80,000 sites make better decisions faster. Since 1976, SAS has been giving customers around the world THE POWER TO KNOW®.
SAS and all other SAS Institute Inc. product or service names are registered trademarks or trademarks of SAS Institute Inc. in the USA and other countries. ® indicates USA registration. Other brand and product names are trademarks of their respective companies. Copyright © 2016 SAS Institute Inc. All rights reserved.