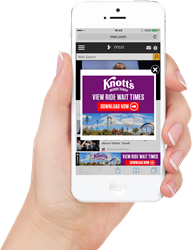 We knew our free WiFi presented great marketing opportunities, however the RaGaPa Solution offers a whole new medium to reach park guests for both corporate messaging and partner marketing initiatives. - Matt Shafer, Cedar Fair Entertainment Company
Sunnyvale, CA (PRWEB) November 16, 2016
Sunnyvale CA.— Cedar Fair Entertainment Company (NYSE: "FUN"), a leader in regional amusement parks, water parks and active entertainment, partners with RaGaPa to utilize their Monetization & Engagement Solution. This innovative platform allows Cedar Fair to market to its guests via the free WiFi service offered in its parks. Cedar Fair's portfolio includes well-known parks such as: Cedar Point, Knott's Berry Farm, Kings Island, Carowinds and more. With the summer season coming to an end, the Company is well positioned for another year of record growth in both attendance and profitability.
Cedar Fair entertains approximately 25 million guests on an annual basis. When walking through the park, it is common to see many of these guests glued to their mobile devices. Because of high use of such devices, one of the most popular amenities is the free WiFi service Cedar Fair offers at select parks which is used by an average of half a million visitors every month.
RaGaPa's Monetization & Engagement Solution integrates seamlessly with each park's existing WiFi. This innovative platform places an advertisement or park message at the bottom of the screen on any device that is using the free WiFi. This partnership enables Cedar Fair to push videos and full-page interstitials (display ads) for branding opportunities and in-park promotions. RaGaPa Solution delivers millions of impressions with above average click-through rates every month.
Cedar Fair worked with a popular mobile gaming company to utilize the marketing opportunity RaGaPa Solution provides. In-session advertising of gaming app ads through RaGaPa Solution resulted in users clicking on ads, downloading and playing the game immediately.
"Mobile gaming app marketing through RaGaPa Solution was a win-win for everyone involved," said Matt Shafer, Cedar Fair's Vice President of Strategic Alliances. "We were able to deliver an exclusive audience to the popular gaming company and they were able to attract users and build brand loyalty for years to come. Best of all, we implemented the platform with little effort across multiple parks thanks to the assistance from the team at RaGaPa."
"High scalability and ease of use are the key components of the RaGaPa Solution," said Gagandeep Singh, RaGaPa Inc's Chief Executive Officer. "We purposely designed the Campaign Manager Dashboard to be highly user friendly to provide efficiency for our clients."
Through RaGaPa's WiFi advertising, more guests are downloading the parks' mobile apps that provide park maps, ride images and thrill levels, ride wait times, special in-park promotions and more. Among other benefits, Cedar Fair now has access to a whole new set of WiFi user data analytics including: device and browser info; websites visited; how many ad impressions have been delivered; and, click-through rates.
With a successful launch and great ROI in five parks, RaGaPa has become a key solution for WiFi marketing and user engagement for Cedar Fair.
About Cedar Fair Entertainment Company:
Cedar Fair Entertainment Company (NYSE: "FUN"), one of the largest regional amusement-resort operators in the world, is a publicly traded partnership headquartered in Sandusky, Ohio. Focused on its mission of being "The place to be for fun," the Company owns and operates 11 amusement parks including its flagship park, Cedar Point, along with two outdoor water parks, one indoor water park and five hotels. It also operates an additional theme park under a management contract. Its parks are located in Ohio, California, North Carolina, South Carolina, Virginia, Pennsylvania, Minnesota, Missouri, Michigan and Toronto, Ontario.
About RaGaPa Inc.:
RaGaPa is pioneer in In-Browser Content Insertion Technology that enables venues to successfully insert venue specific promoted content/advertisements on all the webpages (HTTP) a user visits using the venue Wi-Fi. RaGaPa's CaptiveXS solution combines all the essential Wi-Fi services into a unified platform managed through a cloud-based dashboard. With CaptiveXS, RaGaPa's innovative content insertion technology can deliver even more relevant content to the connected users in real-time. The other key CaptiveXS features include – Captive Portal with Social Login, Content Filtering, Deep User Analytics and User Management.