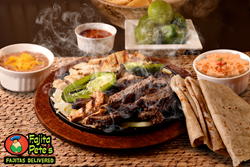 When you want fresh Mexican food made fast, Fajita Pete's is the answer
Houston, TX (PRWEB) November 14, 2016
Fajita Pete's newest location will celebrate its grand opening with free, family-friendly festivities at the restaurant, at 11022 Spring Cypress Road.
The celebration, from 4 to 7 p.m. on Sunday, Nov. 20, will include free fajitas, as well as popcorn, cotton candy, snow cones, and multiple bounce houses for kids and young adults. KRBE 104.1 will provide a live DJ, giveaways, and prizes.
"I am eager to share Fajita Pete's with everyone who lives and works in the Spring Cypress area," Founder Pedro "Pete" Mora said.
Renowned for its made-from-scratch Mexican food, Fajita Pete's offers fresh-off-the-grill beef and chicken fajitas, hand-rolled tortillas, and sides that include rice, beans, guacamole, and chile con queso. All locations provide delivery and takeout services, with a wide catering radius and limited dine-in seating.
The Spring Cypress location is the fifth restaurant for the Houston-based chain, which earlier this year announced that it plans to expand to 40 locations throughout Texas in the next four years. Fajita Pete's currently has locations in Houston, Richmond, and Dallas, and several additional franchise agreements have already been signed in the Houston market. A location in Katy, Texas on Mason road, a suburb of Houston is expected to open next.
Fresh and high-quality ingredients have made Fajita Pete's a popular alternative to pizza and Chinese-food delivery.
"When you want fresh Mexican food made fast, Fajita Pete's is the answer," Mora said. "Try us once, and I'm confident that you'll understand why we have such an excellent reputation throughout Houston."
About Fajita Pete's
Fajita Pete's is a Houston-based Mexican restaurant that offers fresh, made-from-scratch beef and chicken fajitas and sides for delivery, pick-up, catering, and dining in. Founder Pete Mora opened his first restaurant in 2002 and soon received catering requests from local companies. Envisioning a better way to fill a growing niche, he closed his profitable restaurant after five years to focus on the catering and delivery model that became Fajita Pete's. For more information, visit http://fajitapetes.com