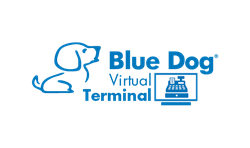 Our team has worked tirelessly in 2016 to bolster our service to handle our upcoming growth. These accolades are a testament to the hard work our team has put in and I couldn't more excited about Blue Dog's future because of the strength of our team.
Vero Beach, FL (PRWEB) November 16, 2016
With TopCreditCardProcessors.com recent announcement of the November rankings, Blue Dog was again, for the 6th straight month, named as one of the top two best online credit card processors.
Online credit card processing and e-commerce is a unique system for processing payments both for the merchant and the processor. To begin accepting credit cards online, a merchant must set up a payment gateway. This gateway creates a page online in which they can begin accepting cards. To seamlessly integrate their entire system, they can then add a virtual terminal to their gateway.
A virtual terminal is software that can convert any computer, tablet, or device into a point-of-sale system capable of accepting credit or debit card payments. That way the entire payment processes are on one platform.
Blue Dog leads the industry because of complex integration made easy. Their custom virtual terminal can support additions such as EMV terminals or NFC wireless terminals.
Blue Dog recently opened an additional office in Orlando, Florida.