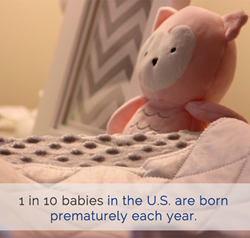 We wanted to help a special family create a beautiful nursery for their newborn daughter.
Chicago, IL (PRWEB) November 16, 2016
Kolcraft Enterprises, a third-generation family-owned baby product manufacturer based in Chicago, has made supporting families the cornerstone of its business model since its founding in 1946. In that spirit, Kolcraft has proudly partnered with the March of Dimes Illinois in their efforts to support families affected by pre-term birth.
As the company marked its 70th anniversary this year, Kolcraft partnered with a local hospital to gift a deserving family impacted by the March of Dimes mission with a special nursery, launching the For the Love of Family Nursery Project.
1 in 10 babies are born prematurely each year in the United States. On April 26, 2016 Stephanie Mendez was born nearly 3 months before her due date weighing just 1 lb. 7 oz. Between hospital visits and juggling new responsibilities, her parents Denise and Luis did not have time to put a nursery together before Stephanie came home from the Neonatal Intensive Care Unit. Kolcraft connected with the Mendez family through Advocate Health Care and surprised the family with a fully furnished nursery for baby Stephanie to call her own.
"Advocate Children's Hospital and the March of Dimes have a shared vision for caring for premature babies and their families," Mike Farrell, President, Advocate Children's Hospital, says. "So often families who are suddenly faced with an unexpectedly premature birth have little time to prepare their homes for their babies. We could not be more pleased for the Mendez family."
Kolcraft's Facebook fans were able to share in the design by voting for nursery essentials and Kolcraft's nursery team worked closely with the Mendez family to create a theme that reflected the family's taste and vision. The Mendez family's touching story and the nursery build was captured on a heartwarming video.
"As a company dedicated to families for 70 years with a strong partnership with March of Dimes, we really wanted to reach out to a family, share their story, and fulfill a dream to bring their baby home to a safe and beautiful nursery" says Tom Koltun, President of Kolcraft. "We are thrilled to have been connected to the Mendez family—who has shown so much bravery and resilience—in order to create a special place for their new arrival."