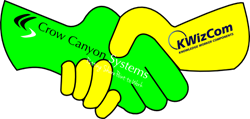 We look forward to the upcoming conference and encourage attendees to visit booth #603, to meet our partner, get acquainted with their products and to check-out KWizCom Forms
Toronto, ON (PRWEB) November 15, 2016
KWizCom, a leading developer of SharePoint Forms & Mobile Solution, as well as numerous other powerful SharePoint add-ons and apps for Office 365 (SharePoint Online) is pleased to announce that Crow Canyon Systems, one of the company's partners in the United States, will be showcasing KWizCom Forms at the upcoming SPTechCon in San Francisco from December 5 – 8, 2016.
The conference will bring together leading SharePoint professionals and experts in this field, major Microsoft partners, consultants and practitioners. The attendees will have the opportunity to participate in over 80 sessions and panel discussions which will help attendees improve their skills and broaden their knowledge of Microsoft's collaboration and productivity software. To learn more about the conference, please visit http://www.sptechcon.com.
Attendees visiting booth #603 will have the opportunity to meet Crow Canyon's team of professionals, check out the company's valuable offerings of business applications for SharePoint and Office 365, and get information on KWizCom Forms, as well as gain the opportunity to win a cool prize. The lucky winner will be announced at the end of the event.
"It is a great honor to have our partner Crow Canyon, to present KWizCom Forms at the SPTechCon in San Francisco," says Nimrod Geva, the Product Group Manager at KWizCom. "We look forward to the upcoming conference and encourage attendees to visit booth #603, to meet our partner, get acquainted with their products and to check-out KWizCom Forms."
About Crow Canyon Systems
Crow Canyon provides powerful and flexible business applications for SharePoint and Office 365, including Help Desk, Customer Service, Employee Services, Asset Management, HR, Facilities, Marketing, Purchasing, and others. The company's applications deliver critical functionality to organizations all over the world, including major financial institutions, government agencies, military units, colleges, corporations of all sizes, healthcare companies, and more.
To learn more about Crow Canyon Systems, please visit http://www.crowcanyon.com .
About KWizCom Corporation
Since 2005, KWizCom has provided innovative solutions and services to make SharePoint even better for over 7,000 companies worldwide. KWizCom's solutions and services expand Microsoft SharePoint out-of-the-box capabilities, streamline workflow, maximize efficiency and enhance over-all productivity for hundreds of thousands of users. KWizCom, a Gold Certified Microsoft Partner, is headquartered in Toronto, Canada. Please visit www(dot)kwizcom(dot)com to find out more about KWizCom's clients, people, partners and solutions.
Follow KWizCom on Twitter https://www.twitter.com/KWizCom
Join KWizCom on LinkedIn http://www.linkedin.com/company/kwizcom
Become a fan of KWizCom on Facebook: https://www.facebook.com/KWizCom
Contact a KWizCom Account Specialist at +1-905-370-0333/+1-855-KWIZCOM or info(at)kwizcom(dot)com