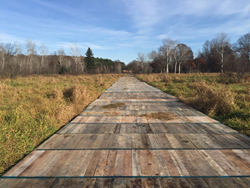 "We see ourselves as a global seamless solutions partner for our ground protection customers," said Sterling Lumber Company CEO Carter Sterling.
Chicago, IL (PRWEB) November 16, 2016
Customers who for decades have depended on Sterling Lumber Company to provide traditional timber mats and access mats for temporary roads, worksite stabilization, and ground protection are now benefitting from the company's new role as the world's largest manufacturer of the revolutionary product known as TerraLam™ Series CLT Mats.
"We've spent nearly four years and invested tens of millions of dollars in the development of TerraLam CLT Mat technology for all the right reasons," said CEO Carter Sterling. "This new mat is more durable and 44% lighter than conventional mats so it's efficiency to the jobsite and on the jobsite, is unprecedented. Our customers are discovering that delivery and installation of the TerraLam CLT Mat requires less time than conventional mats so this is leading directly to significant cost savings," he added.
Sterling recently unveiled a 520,000 sq. ft. TerraLam CLT Mat production facility at its Phoenix headquarters near Chicago. Company leaders tapped the expertise of international partners at the Minda Corporation Ltd. (Germany) to spearhead and implement the new technology. Sterling reports its mat capacity is 425,000 TerraLam CLT Mats per year, outpacing all the North American and European CLT panel producers combined in its inaugural year.
A critical component in creating safe, sustainable ground protection at temporary construction sites, the TerraLam CLT Mat allows a wide range of industries to access and protect sites during the utilization of heavy equipment in all weather conditions. Respective industries include power transmission and distribution, oil and gas, renewable power generation and heavy and civil construction.
Sterling Lumber Company has positioned itself as a vertically integrated full-service temporary access mat manufacturer, offering seamless mat installation, removal and restoration resources under one roof. The company deploys specialty-trained project managers and job specific specialists to each jobsite, ensuring that issues such as safety, logistics management, environmental protection, and operational excellence are addressed.
"We see ourselves as a global seamless solutions partner for our customers," explained Sterling. "We're focused on constantly elevating product performance while delivering efficiency, cost-savings and safety at each job site."
About Sterling Lumber Co.
Spanning more than 60 years of steady growth and strategic performance, Sterling Lumber has become a multi-faceted company that provides products and services to industries which are critical to North American and global infrastructures. Among these industries are transmission and power distribution, oil and gas pipelines, wind and coal power, hydropower and geothermal resources, heavy construction and steel production.
Combining modern technology, competitive inventory and seamless adaptability with the company's fundamental core values of quality, hard work and integrity, Sterling Lumber has become an invaluable partner to companies who invest in its innovative matting solutions, versatile construction timber and other signature solutions. For more information please visit: http://www.sterlinglumber.com/