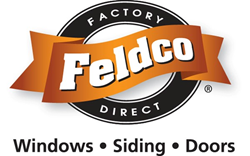 Being able to thoroughly delight our customers starts with providing a great working experience for every employee.
Des Plaines, IL (PRWEB) November 15, 2016
Feldco Windows, Siding and Doors, the industry's leader in replacement windows, siding and doors, announced today that it has once again been named one of Chicago Tribune's Top Places to Work. This makes it the 6th time Feldco has been recognized as a top Chicagoland area employer. The recognition relies solely on the input of employees, who opt in to provide feedback on their jobs, work culture and overall workplace satisfaction through a survey. From competitive compensation and benefits to internal events keeping employees engaged, Feldco goes above and beyond to make sure each employee enjoys coming to work every day.
"Being able to thoroughly delight our customers starts with providing a great working experience for every employee," says Shari Fey, Human Resources Manager at Feldco. Fey, along with others in management, strongly believes that keeping employees happy is the key to successfully satisfying customers on a daily basis. Fey continues, "We make sure we delight each other first which carries through to our customers."
Customer Delight is at the heart of everything Feldco does and is even one of their "Five Keys to Success" which also includes Accountability, Productivity, Professionalism and Teamwork. The combination of the five keys helps Feldco continuously service and satisfy over 350,000 homeowners across the Midwest from the Chicagoland area to Central and Northern Illinois, Wisconsin and most recently, Iowa. Doug Cook, Feldco Owner and President, says that Feldco's non-stop growth is directly related to the hard work of the company's entire team.
"We value our employees and their endless commitment to Feldco," he stated. "Their dedication has helped us achieve many significant milestones as a company and we are incredibly proud of everything we continue to accomplish as a team."
Some of those accomplishments include being named America's #1 Window and Door Company in 2015 and continuing to expand into more and more markets across the Midwest at a rapid pace.
As the company continues to expand, they place an emphasis on providing opportunities for all employees to develop their skills, grow professionally and personally and to advance their careers internally.
Feldco also continuously looks to add more talented and motivated individuals to their team. For more information about career opportunities at Feldco, visit their careers page.
Feldco is the Midwest's leading replacement window, siding and door specialist. Founded in 1976, the company is focused on delighting customers by making home improvement projects simple. With premium products, factory-direct pricing and certified installers, Feldco provides an excellent overall value and experience for over 350,000 customers. The company offers free in-home demonstrations and lifetime product warranties. Feldco serves all of Central and Northern Illinois, Northwest Indiana, Southern and Northeast Wisconsin and as of June of 2015, Eastern Iowa. Feldco has showrooms in Chicago, Des Plaines, Rockford and Peoria, IL, Madison, Cudahy and Menasha, WI, and Davenport, IA. Please visit Feldco's website or contact the company's Communication Center (866-4FELDCO or 708-437-4000) to learn more about Feldco's products and services.
Feldco has been also previously named one of Chicago's Tribune's Top Workplaces in 2010, 2011, 2012, 2013 and 2014. They have also been recently recognized as the #1 Window and Door Company in America by Window and Door Magazine. Doug Cook has been honored by the Daily Herald for Entrepreneurial Excellence as well.