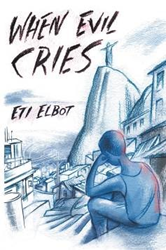 "'When Evil' is a riveting read, captivating at every turn. It is ultimately a story about hope." - Actor, Dale Stevens
(PRWEB) November 17, 2016
The nature of evil is psychologically explored in this stunning novel that reveals the destructive impact that a non-nurturing homelife can have on a child.
Joao never stood a chance. Even before his birth, his mother despises him, believing him the son of the devil. Growing up in a world of abuse, Joao has no way of knowing that his mother was treated the same way.
With an absent father and a mother hell-bent on driving her son out of her life, it's no wonder Joao falls in with the wrong crowd. The lack of faith shown by his mother leads him to a life of crime, because in his mind, he's evil and is only trying to live up to what is expected.
Kirkus Reviews writes: "Elbot's novel zeroes in on one boy's life on the streets of Rio de Janeiro. The world has never been kind to Joao Adao Jovem. His mother, Lilian, has recoiled from him since his torturous birth … Such is the conventional coming-of-age narrative that emerges from Elbot's Omen-like opening …This nature-or-nurture exploration of evil is harrowing."
According to actor Dale Stevens: "'When Evil' is a riveting read, captivating at every turn. It is ultimately a story about hope. Through a sea of beautifully depicted characters with seemingly insurmountable flaws, the main character Joao, with the love of two women holds on to hope to the very end … Couldn't put it down."
Watch the video at: https://youtu.be/wOvWdlaFy3w
About the Author: Eti Elbot was born in 1937 in Lyon, France. Her family fled occupied France for Morocco, returning in 1945. She sailed to Israel with her family in 1948. Married in 1955, she moved to Brazil in 1958, where she ran a fashion business and graduated in psychology. In 1994, she arrived in Melbourne, Australia, where she post graduated in family therapy and worked with refugees suffering from PTSD.
Author's website: http://www.whenevil.com
"This story will knock your socks off with its powerful theme. When a boy is rejected by his mother, he seeks acceptance wherever he can. We are thrilled to announce the book's release," said Robert Fletcher, CEO of Strategic Book Publishing and Rights Agency.
WHEN EVIL CRIES (ISBN: 978-1-68181-711-8) is now available for $21 and can be ordered through the publisher's website: http://www.whenevil.com or at Amazon.com or Barnesandnoble.com.
WHOLESALERS: This book is distributed by Ingram Books and other wholesale distributors. Contact your representative with the ISBN for purchase. Wholesale purchase for retailers, universities, libraries, and other organizations is also available through the publisher; please email bookorder(at)sbpra.net.